LARIONOV AND PULVER
THE RIG 28 week ending May 19th
on May 16th, 2013 by Pulver Sports
May 13
Seguin sets up OT GWG in Game 7

Josh Leivo – 05/13/13

May 14
Scott Gomez Pregame

May 15
May 16
Scott Gomez Pregame

Galchenyuk scores in Team USA Win over Russia (Larionov)
c
Ruperts, Knights prepare for Memorial Cup
May 17
Jesse Blacker Pregame

The new Scott Gomez, same as the old
Pierre LeBrun
ESPN.com
SAN JOSE, Calif. — Lost in the drama which ended Game 2 in the Sharks-Kings series — with Los Angeles scoring twice in the final two minutes to steal a 4-3 win — was a neat little story about a player trying to pick himself off the scrap heap.
San Jose's Scott Gomez was promoted to third-line center and did not disappoint with his effort, tallying two assists and delivering a strong overall performance in an expanded role.
I know, it's a little bit too much to take for fans of the Montreal Canadiens and New York Rangers.
But it's a funny thing when you're no longer a $7 million player, but rather a $700,000 bargain. The expectations are drastically different. Suddenly, your experience and skating in a bottom-six role is greatly appreciated.
The Sharks took a chance on Gomez early in the season after Montreal showed him the door via a buyout, and they haven't regretted it.
"He loves the game," Sharks GM Doug Wilson told ESPN.com Friday. "He worked hard. He came here looking for an opportunity and he got one because he's earned it. He's earned the ice time. And that says an awful lot about him, because he's accomplished an awful lot in this league. His love for the game and his desire to be part of a team and contribute in any way that he can speaks volumes about Scott."
Gomez is all smiles these days. Being away from the Montreal spotlight, where his offensive shortcomings were a daily media dish, has served him well.
"I think we all get to different stages in our lives," Hall of Famer and Sharks associate coach Larry Robinson told ESPN.com Friday. "He went through a tough time in New York. And then things went not too bad at the start in Montreal, and then all of a sudden he was their whipping boy. I think you hear it for so long, after a while maybe you start to believe it yourself and you start to question just how good you really are.
"He's not going to change," Robinson said. "His strengths have always been, I think, he sees the ice as good as anybody. He's a true passer. He's never been and never will be a shooter. But he's a guy that makes things happen.
"I think now, he's starting to believe in himself a bit more."
Robinson was a key figure in both the Sharks taking a gamble on Gomez and the player wanting to make San Jose his next stop. Gomez has huge respect for Robinson, whom he played for in New Jersey, and that made his decision easier.
"Larry is one of the guys that showed me how to be a professional when I came into this league," said Gomez.
Being a pro means accepting what the new reality is. Gomez has been a bottom-six forward on the Sharks this season after spending most of his career as a top-line guy. But if you're looking for the grumpy veteran, you're not going to find one here. Gomez has been only upbeat in San Jose.
"He's often the life of the locker room, he's a guy you can laugh and joke with," said Sharks teammate Adam Burish. "He's got a good sense of when it's a good time to have fun and laugh and when it's a good time to hold guys accountable. He's done a good job of that."
And Gomez isn't scared to pipe up when something needs to be said.
"On the bench, he's saying things that probably a lot of guys aren't comfortable saying," said Burish. "Like calling a guy out, calling an older guy out, he can do it because of where he's been and what he's done. I think he's brought that."
Gomez's contributions here are clearly just as important off the ice.
"Gomer has been a very good player for us in a number of different ways," said Sharks head coach Todd McLellan. "I don't want to say it's surprising, but he's almost like a third or fourth coach. He's trying to do things the right way, he's trying to get guys to keep their shifts short, he's trying to make sure we have a high guy, he's trying to make sure we don't turn pucks over.
"I didn't know we were getting that in Scott Gomez, but we got it. And he's been a big influence that way."
Just don't call this the reinvention of Gomez.
The 33-year-old Anchorage, Alaska, native scoffed at that notion. He's not trying to redo his game. He's just accepting whatever role he's being given.
"That's part of winning, everyone sacrifices," said Gomez. "I was taught by some of the best. In New Jersey, people forget I started on the wing and on the fourth line. It's about winning. Every team I've ever won on it's about sacrificing. As you get older, you realize it more. That's never been an issue. It started with my parents. I was fortunate to start with an organization that only cares about winning."
So, pout because he's no longer in a top-line role? That's not going to happen. What kind of example would that be setting, he asked.
"It would be a slap in the face to everybody that's helped me along the way if I didn't help the young guys out and sit here and mope around," said Gomez. "I came here for a reason. It was my best chance to win, and it's been great. When your number is called, you better be ready."
Let's not exaggerate things here. I don't think you're ever going to see Gomez put up big numbers again. But he still has the skating ability and the vision.
At the right price, he can help a lot of teams next season. His performance Thursday night showed that.
"I thought it was the best game he has played since coming to San Jose," said a veteran NHL scout. "But he still plays a perimeter game. That's who he is."
Hey, as Gomez said himself, he's not going to go out there and start hitting guys like he's some sort of energy guy. It's not his thing. But he can still help in his own way. And for a prorated $700,000 salary, the Sharks will take it.
Gomez, 33, had one year — which carried a $7.35 million cap hit — remaining on his $51.5 million deal when the Habs bought him out on the eve of the season. Montreal still paid him his prorated $5.5 million salary this season, and will owe him $1.5 million next season and $1.5 million the season after that as part of his buyout.
Never again will his salary be the story. But Gomez insisted Friday that his big salary in Montreal was never a pressure point that dragged him down. He doesn't feel liberated now because he's on a bargain-basement deal in San Jose.
"Money's never been anything," said Gomez. "I wasn't born with it, I wasn't raised with it. I've gotten to play in the National Hockey League, my dreams have come true, I've done everything because of this game."
So no, he insists his salary in Montreal was not a burden.
"Never, never," he said. "I've been in the league a long time, I've paid my dues. I've never thought about it once like that. It's never been an issue. You go out there and have fun. Obviously it's set my life up and my family forever [financially] and I'll always be grateful for the guys before me that paved the way for that. There's no question."
This clearly isn't the story of the new Scott Gomez. It's about the old Scott Gomez feeling at peace with a new team.
R. Rupert picks up assist in Memorial Cup opening Win
May 18
Hot goalie gives Thunder confidence
Scott Linesburgh
RecordNet.com
STOCKTON – Ask his teammates to describe Olivier Roy in one word and a consensus quickly develops.
The most common answers are "composure" and "poise" – accurate descriptions of the soft-spoken goaltender, who has saved his team several times during a playoff run that has the Thunder on the brink of an ECHL championship.
Stockton will call on Roy again at 4:05 p.m. today in Game 1 of the Kelly Cup Finals against the Reading Royals at Sovereign Center in Reading Pa. The Thunder is making its first appearance in the finals in its eight-year history and will be the first California team ever to compete in the best-of-seven championship series.
There are many reasons behind the Thunder's march to the Western Conference title, including several key moments and clutch shots.
"But we wouldn't be here without (Roy)," Thunder coach Matt Thomas said. "He's been phenomenal in the net, and just as importantly as a leader. He has a calmness about him, which helps to calm everybody else down. You just get the feeling that when something goes wrong or it gets tough, he'll handle it."
Roy looks almost professorial with his full playoff beard and often speaks in analytical terms, The 21-year-old from Amqui, Quebec, approaches his job as a problem-solver, making the saves the Thunder needs to get wins.
He hasn't played the Royals, the Eastern Conference champs, but Roy came to the Thunder from the Oklahoma City Barons of the American Hockey League in March and didn't play in the regular season against any of the teams Stockton beat on its way to the finals – Las Vegas, Alaska and Idaho.
"I don't think that matters whether you played anyone before this; it's how you prepare now," Roy said. "We'll study some tendencies of course, but I like to let the game come to me, and you take it as it comes. The guys have been doing an awesome job of playing in front of me. And I just try to stay in my bubble and not let anything distract me."
Roy hasn't been perfect in the postseason. On April 9, in a 5-2 loss to Las Vegas, he gave up three goals on nine shots and was replaced by backup Tyler Bunz. Roy came back, and so did the Thunder, which trailed by three goals and was 15 minutes away from being eliminated by the Wranglers in Game 6, but survived to continue its big run.
On May 11, Roy had one of his best games when he stopped 44 shots in the conference-clinching 2-1 win against Idaho.
"I think he's inhuman. The saves he's making are ridiculous," Thunder defenseman Daniel Gibb said. "Everyone's calm out there because you know if a guy gets by you, Olivier can handle it."
Roy's former Thunder teammate and roommate, current Reading forward Ian O'Connor, said he's told the Royals how tough Roy will be to score against. And the Thunder has plenty of challenges against the Royals.
Reading also has an excellent, young goalie, Riley Gill, and team captain Yannick Tifu had 72 points in 72 games in the regular season.
"It should be a very good series," Royals coach Larry Courville said. "We're playing well, and obviously Stockton has also played well. These are two teams that played hard to earn their spots. We haven't played each other, so it's a new experience for everybody."
Stockton is confident that no matter what happens, Roy will give it a great chance to win.
"We know what we are capable of and our best hockey hasn't come yet," Roy said. "We're excited to have a chance to bring a championship to Stockton."
Scott Gomez Postgame

Thiessen shuts out Providence in Game 5
May 19
Galchenyuk leads U.S. to bronze medal at world hockey championship (Larionov)
The Canadian Press
STOCKHOLM, Sweden — Alex Galchenyuk scored twice in the shootout as the United States edged co-host Finland 3-2 in the bronze-medal game at the IIHF World Championship.
The Montreal Canadiens rookie salvaged a medal for the U.S. after the Americans blew a 2-0 third-period lead.
Finland's Lauri Korpikoski scored twice in the third to send the game to overtime.
Craig Smith, with a goal in the first minute of play, and Paul Stastny scored in the first period for the United States.
John Gibson made 36 saves for the U.S., while Antti Raanta stopped 23 shots for Finland.
more
THE RIG 28 week ending May 12th
on May 8th, 2013 by Pulver Sports
May 6
Tyler Seguin pregame

Sorry B.C., but Irwin enjoying Sharks' run
Cleve Dheensaw
Times Colonist
When your resumé includes the Junior B Saanich Braves — as Matt Irwin's and Adam Cracknell's both do — you know you've arrived as Stanley Cup playoff rookies the hard way.
But the Island players have earned strong reviews for their roles in the 2013 post-season with the San Jose Sharks and St. Louis Blues, respectively.
Irwin's play might be eliciting conflicting emotions among his buddies back home as the Sharks look to sweep the home-province Vancouver Canucks in the opening round.
"It's been a tough decision among my friends who to cheer for — because like me, they grew up cheering for the Canucks — but I hope I've converted a few Canucks fans to Sharks fans," quipped Brentwood Bay's Irwin.
The Sharks are full value for their 3-0 lead heading into tonight's Game 4 in the Shark Tank.
"We've managed to put together a solid 60 minutes in each of the games so far and we have to stick to our game plan," said San Jose rookie blueliner Irwin, who has an assist in the three games.
"We're confident going into Game 4. But we know we're going to be facing a desperate hockey team that is just going one game at a time and simply wants to return home for Game 5. We know we're going to see Vancouver's best effort. Our goal is to take advantage of our home ice and make sure they don't get back to theirs."
Irwin's short but sharp breakout passes have been key in breaking down the Canucks' defence.
"The first pass out of the zone has always been one of my strengths . . . and on the power play I carry the puck up ice and find the open man," said the six-foot-one, 25-year-old former Nanaimo Clippers junior.
May 7
Galchenyuk's First Playoff Goal (Larionov)

Bus trips don't bother Hamilton's LeBlanc at this time of the year
Scott Radley
TheSpec.com
Stepping off the bus after a seven-hour haul from Pennsylvania to Rhode Island, the legs are a little stiff and the brain's a little mushy. If he had to go straight from his seat to the ice, his skating might look a tad less than nimble.
Ask him about the grind, though, and brace yourself for an earful of cheeriness.
"I can't complain about long bus trips this time of year," Peter LeBlanc says. "It's better than a long trip home."
The 25-year-old Hamiltonian's not going to complain about anything right now. At this moment, life is about as good as it gets.
In a strange season that's included a loss of playing time, a resulting drop in production, a trade and a life-or-death battle just to get into his first-ever post-season, the third-year pro is now in the midst of an offensive explosion that has him among the points leaders in the entire American Hockey League.
A bit of an unlikely story? Just a bit.
After last year's breakout season with the Rockford IceHogs in which he scored 24 goals, LeBlanc was expecting big things again this fall. Maybe even a long look from the big club in Chicago.
Except the lockout happened. Suddenly, with plenty of guys dumped down into the minors to stay fresh, his ice time vanished. It was demoted big-leaguers getting opportunities on the power play and being given extra minutes. Halfway through the year, the former Hamilton Red Wing had just four goals.
"With the flood of guys, I just didn't have the opportunity," he says. "It was frustrating, but there were a lot of guys frustrated."
Things got more unsettled in January when, moments after touching down in San Antonio on a road trip, he learned he'd been traded to Washington. He'd report to the Capitals' farm team in Hershey.
Some guys take insult when they're dealt. They feel their team didn't want them or was giving up on them. Not LeBlanc. He saw it as a fresh start and a clean slate. Not to mention a new adventure.
"I didn't know anything about Hershey," he says. "Other than always putting a winning team on the ice. And chocolate."
When he arrived, his play picked up, though still not to where it had been. Meanwhile, his new team that always makes the playoffs was dancing along the edge of not making it this time. He really didn't want that. In his two years with Rockford, he never made it into the spring tournament.
The season came down to the final game. The Bears won to get in. Then, LeBlanc exploded.
In his first playoff game against the top-seeded Providence Bruins, he had two assists. In Game 2, he had three more. Game 4 brought another pair.
During the regular season, he collected 30 points in 67 games split between the two teams. In four playoff games, he suddenly had seven assists.
Um, what happened?
"I don't know," he says. "I kind of like the emotion that's involved."
He also uses words such as pressure and desperation and intensity. Whatever you want to call it, he's loved it.
Funny, though. After waiting so long for this chance and wanting so badly to produce in this situation, he's spending most of his time not thinking about what he's doing.
He's not thinking about the points. Trying not to, anyway. He's not superstitious, so he's not trying to remember exactly what he did each day and repeating it or getting caught up in other crazy rituals. He's not thinking about what might happen if the team can get on a real roll.
All he's thinking about is Game 5 on Wednesday night. Win the deciding game of the best-of-five opening round and the fun ride continues. Lose and the season's over.
He desperately wants more bus rides, no matter how lengthy they are.
"I don't want to say it goes by fast," he laughs of the time on board. "But it goes by a lot faster than in the regular season."
Eyes turn to Rupert to control Scheifele
Ryan Pyette
London Free Press
The London Knights have never needed more from Ryan Rupert than they do right now.
Somebody has to put a lid on Barrie star Mark Scheifele after he erupted for five points in his team's OHL final Game 3 win Monday.
It's nearly a lock that Colts coach Dale Hawerchuk, still blessed with last change at home in Game 4 Wednesday night, will force Rupert and his mates to prove they can shut down his top line of Scheifele, Zach Hall and Anthony Camara.
Bo Horvat, Seth Griffith and Tyler Ferry won't get their crack at it again until Friday night back in London.
"We can handle him and play tight against him," Rupert, the 18-year-old Leafs prospect from Grand Bend, said, "and give him less room to stickhandle and shoot the puck because that's what he's best at."
Scheifele, the 20-year-old Winnipeg Jets first-rounder and Canadian world junior forward, beat Rupert on a faceoff to set up Barrie's first goal 35 seconds into Monday's 6-3 loss.
This kind of assignment is hardly new territory for the gritty Knights forward, who lives and breathes hockey at head coach Dale Hunter's house.
The beauty of Rupert has always been his knack for knocking opponents off their game while chipping in a goal on the big stage, too.
This is the Knights' fourth trip to the league championship series in the Hunter era.
Rupert has six goals in eight OHL final games over the past two years. That's the same number Chicago Blackhawk David Bolland scored in two trips to the OHL final with the Knights in 2005 and '06.
Only Rob Schremp has more (nine).
"It's pretty special to be among those guys, but I think that's just the expectation that comes with being in the finals and I like to provide (it) and help the team out," Rupert said. "I seem to thrive off the more pressure we get."
Down 2-1 in the series and going on the road again to face one of the best players in junior hockey, that's about as much pressure as anyone can handle.
None of the other members of last year's Hanson Line — sensational Austin Watson and trusted brother Matt Rupert, out injured since the Kitchener series — can help Ryan now. But his history of getting the job done is there.
"You saw last year as a 17-year-old playing how well he did with Matt and Watson up the middle," London assistant coach Dylan Hunter said, "and they're playoff guys. Some guys are, some guys aren't. They have that ability to do it.
"I'm not surprised (Ryan Rupert) has that many goals in the league final. He plays hard and he gets to the dirty areas.
"On the other side, Olli Maatta is the same way on defence. He really raises his game in the playoffs. Those are the guys you need at this time of year."
Ryan Rupert had a forgettable start to this season. He got hurt and didn't score a goal until Dec. 7.
But he has since found his confidence and has a combined 17 goals over these last two post-seasons combined.
"I don't know what it was at the start of the regular season, but I guess it's the playoffs that count," Rupert said. "I guess I would rather get it (a slump) over with at the start than at the end. It's just start playing my game and know my role and that's when I do my best out there."
The Knights could really use one of those unforgettable performances in Game 4.
Sharks advance to second round


Photo by Christian Petersen/Getty Images
May 8
Game 4 Morning Skate: Tyler Seguin

May 9
Rangers Murphy, Gibson named OHL all-stars
Record Staff
TheRecord.com
Kitchener Rangers captain Ryan Murphy and goalie John Gibson were named all-stars by the Ontario Hockey League Thursday.
The pair cracked the OHL's second-team based on votes doled out by the league's general managers.
It was Murphy's third consecutive trip to the all-star team while Gibson got the nod the past two years.
Murphy was Kitchener's leading scorer from the blue-line with 48 points in 54 games. Gibson finished the season with a 17-9-0-1 record in net.
First team all-stars included: Vince Trocheck, Plymouth Whalers, C; Reid Boucher, Sarnia Sting, LW; Seth Griffith, London Knights, RW; Ryan Sproul, Sault Ste. Marie Greyhounds, D; Scott Harrington, London Knights, D; Jordan Binnington, Owen Sound Attack, G; and Plymouth coach Mike Vellucci.
Second team all-stars were: Charles Sarault, Sarnia Sting, C; Garret Ross, Saginaw Spirit, LW; Brett Ritchie, Niagara IceDogs, RW; Cody Ceci, Owen Sound Attack, D; Murphy, Kitchener Rangers, D; Gibson, Kitchener Rangers, G; and Belleville coach George Burnett.
Third team all-stars went to: Boone Jenner, Oshawa Generals, C; Anthony Camara, Barrie Colts, LW; Cameron Brace, Owen Sound Attack, RW; Dylan DeMelo, Mississauga Steelheads, D; Colin Miller, Sault Ste. Marie Greyhounds, D; Malcolm Subban, Belleville Bulls, G; and Oshawa coach D.J. Smith.
Trocheck of the Whalers also won the Red Tilson Trophy as the league's player of the year.
Blacker recalled by Leafs

Campbell, Andreoff recalled by Kings
Top 5 Nail Yakupov Moments (Larionov)
Galchenyuk Postgame (Larionov)

May 10
Boisclair, Roy put Thunder one win from Finals
Scott Linesburgh
RecordNet.com
STOCKTON – Max Boisclair's hustle and Olivier Roy's steely resolve put the Thunder one win away from the Kelly Cup Finals.
Bosiclair scored with less than 3 minutes remaining in the third period and Roy faced a mad rush by Idaho, including a penalty shot with 1.4 seconds to go. The Stockton goaltender survived it all, and the Thunder beat the Steelheads 3-2 in front of a crowd of 4,417 at Stockton Arena.
The Thunder leads the best-of-seven ECHL Western Conference finals 3-1, and can secure its first trip to the championship round with a victory at 7:30 p.m. today at Stockton Arena.
Stockton avoided going to overtime for the seventh time in the postseason, but there was plenty of high drama in the final minutes.
Boisclair, who has a point in every game in this series, broke up a 2-2 tie by charging the Idaho net and scoring with 2:36 remaining in regulation. The Steelheads tried to rally and had several good chances – along with some help.
Thunder defenseman Nathan Deck was called for delay of game with 1.4 seconds to go, and Idaho's Austin Smith was awarded a penalty shot. His offering went wide on Roy's glove side, and the Thunder ran out the clock.
Roy had 27 saves, while Josh Robinson had 32 for Idaho.
The Stockton players were quite vocal about how dissatisfied they were with their play at the beginning of Wednesday's 2-1 overtime loss and showed plenty of energy in the first period of Game 4.
The Thunder went after Robinson, getting off four shots in the first 38 seconds of the game, and outshooting Idaho 12-7 in the first 20 minutes.
But Stockton couldn't score, and Idaho took the lead in the second period when Brett Robinson beat Roy right in front of the crease 47 seconds after intermission.
The Steelheads celebrated, but held the lead for exactly 20 seconds.
With an assist from Matt Bergland, Harrison Reed got off a sharp wrist shot from between the circles to even the contest at 1-1.
The Steelheads paid Stockton back for the quick turnaround goal in the third period. Thunder captain Garet Hunt ignited the loudest cheer of the night when he smashed a long shot past Robinson's glove 2:59 into the period on assists from Eric Hunter and Ryan Hayes.
Idaho won the ensuing faceoff, and Brett Robinson struck again as he knotted the game at 2-2 just 14 seconds after Hunt's score.
In the Eastern Conference finals, the Reading Royals beat the Cincinnati Cyclones 3-2 and lead the series 3-1. The Royals can finish off the Cyclones today in Cincinnati.
May 11
Galchenyuk to play for Team USA at World Championships (Larionov)
IIHF.com
Excerpt:
Galchenyuk will join Team USA after spending the season with the Montreal Canadiens.
The 19-year-old won a gold medal with the U.S. at the U20 World Championship four-and-a-half months ago when he played for the OHL's Sarnia Sting before joining the Canadiens for the delayed start of the NHL season.
In 48 NHL games in his rookie season he scored nine goals and had 18 assists. He also played in five playoff games having one goal and two assists.
Galchenyuk, whose father Alexander Galchenyuk represented Belarus in the 1998 Olympics and in four World Championships, is expected to arrive in Helsinki on Sunday.
Rookie defenseman Matt Irwin plays big role in Sharks success
Associated Press
SAN JOSE, Calif. — When the San Jose Sharks moved defenseman Brent Burns to forward in March it provided an immediate spark to what had been a lackluster season to that point.
Burns' physical presence up front allowed the Sharks to move Joe Pavelski to the third line and gave a scoring-challenged team much more depth to help lead the Sharks into the second-round of the playoffs.
Burns' move might not have been possible if rookie defenseman Matt Irwin hadn't proven he could play in the NHL. That gave the Sharks the depth at the blue line that allowed Burns to play up front when he provided 20 points in 23 regular season games.
"He's come in and solidified a position in our lineup," coach Todd McLellan said. "I see him developing beyond his rookie year now and into a veteran type demeanor, a veteran type contribution on a nightly basis."
Irwin had six goals and six assists in 38 games with the Sharks, teaming with veteran Dan Boyle for most of the year to give the Sharks a defensive pairing with two potent puck movers.
"Game after game you start feeling more comfortable and the coaching staff feels more confidence in you and trusts you a little bit more and puts you out in more situations," Irwin said. "The more games you play, the more confident you feel."
Irwin had 2.1 shots on goal per game, the most of any rookie defenseman, and was a regular fixture on the second power-play unit. He has also been reliable on the defensive end and has been a major part of San Jose's success.
He played the first seven games during a franchise-record 7-0 start and then played only three games during a rough February as some of the veterans were back healthy. Irwin resumed his regular role in March when the team turned the season around with the move of Burns to forward.
"We get off to the good start, and Matt Irwin's part of it," McLellan said. "We get healthy and we want to bring some guys back, so Matt Irwin leaves. It doesn't quite work as well for us. So we bring him back in and eventually get back to where we want to do. I think that speaks volumes to how much he's contributed and how much we count on him."
Irwin was rewarded for his strong play with a $2 million, two-year contract that kept him from becoming an unrestricted free agent this summer.
Irwin was undrafted at age 18 and originally signed with San Jose as a free agent in March 2010 after wrapping up a stellar college career at UMass-Amherst when he was second among all NCAA defensemen in scoring in his final season.
Irwin, 25, posted 73 points in his first two full seasons with Worcester in the AHL and started this season there while the NHL was in its lockout. With Burns and Jason Demers hurt at the start of the season, the Sharks needed Irwin in the NHL and immediately paired him with Boyle in a sign of confidence.
"He's been amazing," Boyle said. "He's not only been good I think he's been better than good. He's had a tremendous season and he shows a lot of poise. I think that's his biggest asset right now, his poise out there. It's tremendous."
Rupert Nets OT Winner as Knights Force Game 7
The Canadian Press
BARRIE, Ont. — Ryan Rupert scored his second goal of the game in overtime as the London Knights held on to beat the Barrie Colts 5-4 in Game 6 of the Ontario Hockey League final Saturday night.
The Knights victory ties the series 3-3, with the deciding game to be played in London, Ont., on Monday night.
Bo Horvat had a goal and an assist for London, with Brett Welychka and Tommy Hughes also finding the back of the net.
"We have good character and leadership in the room," said Knights head coach Dale Hunter. "It's one shot wins, and that's what's exciting about overtime hockey."
Mitchell Theoret scored twice for Barrie, which entered the third period down 4-0 before scoring four straight goals to force overtime.
Andreas Athanasiou and Erik Bradford also responded for the Colts.
Barrie scored three times in 4:11 late in the third to tie the contest.
After Athanasiou got Barrie on the board, Bradford batted in a rebound to bring it to 4-2.
Theoret knocked in an opportunity from the front of the goal just 25 seconds later, setting up the frantic finish.
A pass in front of the goal went off of Theoret's skate and in, tying the contest.
"It was a great comeback," said Colts head coach Dale Hawerchuk. "We had them on the run for a while."
But Rupert would take a pass shortly into the extra frame and beat Barrie's Alex Fotinos, who replaced Mathias Niederberger in the third, to set up a winner-take-all contest on Monday.
"(It was) probably one of my biggest goals," Rupert said. "Forcing a Game 7 at home, it should be a good one."
Power-play chances were few and far between on Saturday. Barrie finished the night at 1 for 2 while London went 0 for 4.
Knights goalie Jake Patterson turned aside 23 pucks on the night.
Niederberger made 18 saves on 22 shots before being pulled in favour of Fotinos, who stopped all but one of the eight attempts he faced.
May 12
Olivier Roy lifts Stockton to ECHL Finals
Ruben Dominguez
Stockton Thunder
STOCKTON, Calif. – Olivier Roy put on the best performance of his postseason career and the Stockton Thunder won Game 5 over the Idaho Steelheads 2-1 to become the 2013 Western Conference champions in front of 4,530 fans at Stockton Arena on Saturday.
The Thunder, who clinched the series over the Steelheads 4-1, will now advance to the Kelly Cup Finals for the first time in team history. Stockton will face the Reading Royals, who eliminated the Cincinnati Cyclones in five games.
"It's a great feeling." Thunder head coach Matt Thomas said, "This building, our fans, our organization, and everyone that's been involved since Day 1 to present day, they deserve a banner. The opportunity to put a banner in the building is something that I really strived to be able to do, and we've fallen short a couple times before. To finally get one is a pretty special accomplishment."

more
THE RIG 28 week ending May 5th
on April 29th, 2013 by Pulver Sports
Apr 29
Nail Yakupov named NHL Rookie of the Month for April (Larionov)
Press Release
Edmonton Oilers right wing Nail Yakupov, who led all rookies with 11 goals and 15 points in 14 games, has been named the NHL Rookie of the Month for April.
Yakupov edged Montreal Canadiens center Alex Galchenyuk (6-6—12 in 14 games), Oilers defenseman Justin Schultz (3-8—11 in 14 games), Calgary Flames left wing Sven Baertschi (3-8—11 in 10 games), Chicago Blackhawks left wing Brandon Saad (4-4—8 in 13 games) and Dallas Stars right wing Alex Chiasson (6-1—7 in seven games) for the honor.
Yakupov, 19, scored in seven of his 14 games, including his first career hat trick in Edmonton's season finale April 27 vs. Vancouver. He had five multi-point efforts and finished the month with a +7 rating.
Selected by the Oilers with the first overall pick in the 2012 NHL Draft, Yakupov led all rookies with 17 goals and 31 points in 48 games this season. He also ranked first among freshmen skaters in power-play goals (6) and shooting percentage (21.0%). Yakupov joins St. Louis Blues right wing Vladimir Tarasenko (January), Florida Panthers center Jonathan Huberdeau (February) and Los Angeles Kings defenseman Jake Muzzin (March) as Rookie of the Month winners this season.
Nail Yakupov named NHL Third Star of the Week (Larionov)
Press Release
Edmonton Oilers right wing Nail Yakupov earned the NHL's Third Star honour as part of the NHL's "Three Stars" for the week ending April 28.
Yakupov, 19, scored an NHL-best six goals in four games to help the Oilers finish the season with a pair of victories. He was held off the scoresheet in a 3-0 loss to the Anaheim Ducks April 22, but bounced back with his 12th goal of the season in a 4-1 loss to the Chicago Blackhawks April 24.
The 5'11", 184-pound winger, posted five goals in the final two games of the season; scoring two goals in a 6-1 victory over the Minnesota Wild April 26 and recording his first career hat trick in a 7-2 win over the Vancouver Canucks April 27.
Galchenyuk wins Molson Cup for April (Larionov)
Press Release
MONTREAL – Goaltender Carey Price is the Montreal Canadiens Molson Cup Player of the Year for the 2012-13 season, while forward Alex Galchenyuk is the Molson Cup recipient for the April segment.
Born in Anahim Lake, British Columbia, Price, the Canadiens' Player-of-the-Month in February, finished ahead of teammates Brendan Gallagher and Alex Galchenyuk.
The netminder played 39 games during the regular season, for a career total of 310, ranking him eighth on the team's all-time list for most games played by a goaltender. Price posted a record of 21 wins, 13 losses and 4 overtime/shootout losses. He maintained a 2.59 goals-against-average, while blocking 921 of the 1,018 shots he faced for a .905 save percentage. Price recorded three shutouts in 2012-13, for a total of 19 in his career, ranking him ninth in team history.
Galchenyuk earned the last segment of the season, finishing ahead of Carey Price and Brendan Gallagher. The Milwaukee, Wisconsin native recorded 12 points (6 goals, 6 assists) with a +5 differential in 14 games in April. One of his tallies was a game-winning goal.
Galchenyuk post-practice (Larionov)

Hershey Bears F Peter LeBlanc tied for AHL playoff scoring lead
Tim Leone
PennLive.com
Hershey centerman Peter LeBlanc (0-5-5) is tied for the AHL playoff scoring lead. "Things have been going well lately and the boys have been putting the puck in the net," LeBlanc said. "The power play's been clicking well, so it's been good." LeBlanc produced 8-10-18 in 33 regular-season games with Hershey. "He's done a real good job on the power play," Bears head coach Mark French said. "He's a guy who put up real good numbers last year in Rockford. I thought when he first came here, offensively you could see some chances coming, but they weren't going in. Late in the season, he seemed to get hot, and now he's staying hot."
Adam Clendening: Exit Interview

Apr 30
Canadiens' rookie duo ready to take on the playoffs (Larionov)
Arpon Basu
NHL.com
BROSSARD, Quebec — Montreal Canadiens rookie Alex Galchenyuk laughed when asked about the scruff of growth on his cheeks and neck — the result, he claims, of going only two weeks without shaving.
Clearly, the NHL's youngest participant in the Stanley Cup Playoffs is ready.
"I think if I shaved before the playoffs, even if we go really far, there won't be anything on me," Galchenyuk said. "So I'm probably not going to shave."
A day later, fellow rookie Brendan Gallagher was asked the same question.
He immediately accused his road roommate of cheating, claiming it's been more like two months since Galchenyuk last shaved.
"I'm going to be the worst, I'd expect, in the League," Gallagher said.
The Canadiens' pair of dynamic rookie forwards can indulge in these light-hearted problems only because their play on the ice has been anything but a problem for their team this season.
In fact, it could be argued the emergence of Gallagher, 20, and Galchenyuk, 19, is the biggest reason the Canadiens were able to turn things around so quickly from the nightmare of last season, giving coach Michel Therrien a balanced attack from his forwards that gave opposing coaches matchup problems all season.
The two likely will begin the Canadiens' first-round playoff matchup against the Ottawa Senators playing on either side of center Lars Eller, who at 23 is the grizzled veteran of the line.
The young trio is labeled as Montreal's third line, but none of its members have played like third-liners of late. Eller and Galchenyuk were Montreal's two best forwards in April, with 13 and 12 points, respectively, in 14 games. Gallagher's biggest strength this season has been his consistency, but he had a little burst after being moved onto Eller's line in the team's second-to-last game, getting two goals and an assist in his final two outings.
"We've been playing mostly against other teams' third and fourth lines, I believe," Eller said. "I don't know if other coaches have tried to match lines that hard, but we take whatever comes our way. We don't worry too much about the opposition; it's really about what we're going to do. I truly believe that."
Eller and Galchenyuk have been playing together practically the entire season. Gallagher was the third member of that line early in the season before being moved to a line with Max Pacioretty and David Desharnais before being reunited with Eller during a 4-2 win against the Winnipeg Jets last Thursday.
In terms of total points, Montreal's "third" line was its most productive this season despite the fact Eller and Galchenyuk barely have been used on the power play. Eller set a career high with 30 points, Gallagher had 28 and Galchenyuk 27. When it came to even-strength points, Galchenyuk was second on the Canadiens with 26, Eller third at 25 and Gallagher fourth at 24.
"We're young, we've got a lot of energy and we're just trying to translate it to the ice and get the momentum going for our team," Galchenyuk said. "We just need to keep doing that in the playoffs."
The one who has brought the most energy to the team all season, undoubtedly, has been Gallagher.
Listed at 5-foot-9, 178 pounds, Gallagher plays as if he is 6 inches taller and 30 pounds heavier, crashing the net shift after shift and battling far larger defensemen for pucks along the boards — and coming out with them on his stick more often than not.
Canadiens defenseman P.K. Subban noted how the team would be fine if everyone played like Gallagher. Indeed, his game is tailor-made for the playoffs.
"The good part about my game is it doesn't have to change at all. I can play the same way, and it just makes it that much more fun," Gallagher said, flashing his ever-present smile that drives opponents nuts on the ice but makes him so engaging off it. "I'm going to focus on playing the same way and doing the same thing I've always done. That said, in the playoffs everything matters that much more. I'm looking forward to it."
As for Galchenyuk, his game has been more of a work in progress all season as he adjusted to the speed and strength of NHL players. Gallagher had the advantage of spending the lockout playing in the American Hockey League, but Galchenyuk jumped to the Canadiens after starting the season with his junior team, the Sarnia Sting of the Ontario Hockey League, then helping the United States win the gold medal at the 2013 IIHF World Junior Championship.
With his 33 OHL games, seven at the WJC and 48 games with the Canadiens, Galchenyuk's 88 games played this season is by far the most of his career — and significantly more than the eight he played last season (six in the OHL playoffs) following a preseason knee injury.
Except rather than fade down the stretch, Galchenyuk got stronger.
"I think I just felt more comfortable and adjusted to the speed of the game," Galchenyuk said. "I'm just trying to go out there and be the player I can be and create offense."
Therrien deserves a good deal of credit for how he managed the integration of Galchenyuk and Gallagher into the NHL, and he's doing the same thing again late in the season with the addition of rookie defenseman Jarred Tinordi to the Canadiens' top six on the blue line. However, the coach said it is the team's makeup that deserves the most credit, with a healthy mix of youth, young veterans Subban, Pacioretty and Josh Gorges, and older veterans Brian Gionta and Andrei Markov to help guide the kids along the way.
"I like the chemistry of our team," Therrien said. "We have some good veterans who are taking care of those young kids, and we've got some great young kids with great work habits who listen to veterans, listen to coaches. I believe that chemistry is very important to a hockey team, and our team has that.
"I believe chemistry brought us to where we are right now."
And the final, missing ingredients to that chemistry were two young forwards who have performed so well on the ice that their biggest concern heading into the biggest tournament of their lives is facial hair.
Loktionov named to Team Russia at World Championships (Larionov)
Xavier Ouellet Reassigned to Griffins
May 1
Island products take aim at the Stanley Cup
Cleve Dheensaw
TimesColonist.com
Matt Irwin of Brentwood Bay acknowledges it is surreal that his first career Stanley Cup playoff game tonight will be in his home province against the Vancouver Canucks.
"It's pretty exciting to be playing against the team you grew up watching," said the San Jose rookie defenceman by phone Tuesday before the Sharks departed California.
"The key for us is to play our style — our North-South game — and get it in deep," said the six-foot-one, 25-year-old, who had six goals, 12 points and a minus-one rating in 38 games.
It'll be a best-of-seven series of mixed emotions for family and friends on the Island.
Dad Mike Irwin quipped: "We can't lose in this series."
Yet blood is thicker than Canuck Nation.
"But obviously, we're cheering for the Sharks," said Mike Irwin, who retired as staff sergeant after a long career with the Saanich Police.
Meanwhile, two other Island-produced defencemen head into the Stanley Cup playoffs, including Minnesota Wild veteran Clayton Stoner from Port McNeill. Another may change the antipathy toward Toronto many on the Island claim to hold. Ryan O'Byrne of Victoria will skate with the former hapless Maple Leafs, as they make their first post-season appearance in nine years.
"There is so much excitement, energy and passion around [Toronto] … it's a lot of fun," said O'Byrne, the six-season NHL veteran, who was traded to the Maple Leafs mid-season from the Colorado Avalanche.
"The city is going nuts."
With eight defencemen on the Maple Leafs roster heading into the series against the Boston Bruins, O'Byrne will be a game-time decision but he's taking it in stride like a pro.
"I'm a professional and have to stay ready," he said by phone from Boston.
"If I get in, I'll play my game, which is simple, physical hockey. My 19 games of NHL playoff experience with Montreal, including making the [2010] Eastern final, can't be discounted."
Both Irwin and O'Byrne are revealing case studies of players who eschewed the major-junior WHL route in favour of the Junior A B.C. Hockey League League, O'Byrne through the Victoria Salsa (now Grizzlies) and Nanaimo Clippers and Irwin through the Clippers.
Irwin got cut from more rep teams than he cares to remember, was never selected in the Bantam draft, and went through Junior B with the Saanich Braves. He never played spring or summer hockey but instead baseball with Jamie Benn who is also from the Saanich Peninsula — and now a highly-paid forward with the NHL's Dallas Stars — while dads Mike Irwin and Randy Benn coached on the diamond.
"Staying away from hockey in the summers, and playing baseball, kept me fresh for hockey," said Matt Irwin. "It was a big key as to why I never got sick of hockey."
These certainly weren't those pushy hockey families of gaudy Canadian hockey lore.
"My parents never forced me," said Matt Irwin.
There is certainly a lesson in that.
"My advice to parents is: 'Don't go crazy.' I never ever thought, in all those years of youth hockey, that I had a kid that was going to the NHL, much less Junior A hockey," said Mike Irwin.
"If the talent is there, it will be found."
It wasn't until Matt went to Nanaimo, and played three seasons in the BCHL with the Clippers, that his talent was was truly discovered.
"Bill Bestwick [then Clippers head coach/GM] really lit a fire under Matt and told him he could do this," said Mike Irwin.
"Bill instilled that confidence in Matt."
The rise was slow-building, but had become so startlingly evident, that Irwin was signed by the Sharks after just two years in the NCAA at Umass-Amherst and assigned to the Worcester Sharks of the AHL in 2010, where he played through the beginning of this season before the NHL lockout ended.
But the decision to depart the NCAA, which meant leaving school, was wrenching for the family. What if pro hockey didn't pan out?
Irwin promised his parents he will complete his business degree, which he plans to do long-distance through the University of Phoenix. "You never know how long hockey will last," said Irwin.
But after making a significant rookie impact, this is a ride that could last awhile for Irwin.
"In the NHL, the speed is quicker … it's the biggest stage and everything is magnified," he said.
Not that much fazes this guy. His dad describes him as "boring" but in a good way. "He's so laid back that nothing gets to him," said Mike Irwin.
Not even his old favourite Canucks team.
Nail Yakupov Year-End Interview (Larionov)

Tyler Seguin matures into pressure-packed role
Stephen Harris
BostonHerald.com
In his previous two NHL postseasons, Tyler Seguin was still just the new kid, a young man with tremendous potential and a lot to learn about life, on and off the ice, in the big leagues.
Come playoff time, any good hockey person knew better than to expect too much from a youngster like Seguin. It wouldn't be fair or reasonable to ask a teenager to step up and deliver amid the heightened intensity and pressure of the playoffs.
But Seguin's status has changed as the Bruins face off tonight against the Toronto Maple Leafs in Game 1 of their Eastern Conference quarterfinal series at the Garden. He's not the young, raw kid anymore — even if he is just two months past his 21st birthday — but a player the B's desperately need to be very good.
In recent Bruins-Maple Leafs matchups, there's been so much pressure on Toronto winger Phil Kessel; now he's got company in that regard, as a major spotlight will be focused on Seguin.
In the 2011 playoffs, capping his rookie season, Seguin was a healthy scratch in the first two rounds. He was forced into the lineup at the start of the conference finals vs. the Tampa Bay Lightning by Patrice Bergeron's minor concussion, and responded with a goal and assist in his first game. Seguin then added two goals and two assists in his second game.
Seguin's contributions had a profound impact on the 2011 playoff run. Indeed, it could be argued that there would have been no Stanley Cup but for what the then-19-year-old was able to do.
It was an unexpected delight for the team, a bonus. This time around, the B's need that sort of thing from Seguin — and more of it. There was no pressure on him to produce back then. Now, with 20 playoff games (five goals, five assists) on his resume, there's plenty of pressure.
"I think Tyler understands that," Bruins president Cam Neely said as he watched practice yesterday at the Garden. "This is a couple of years removed from when he stepped into the playoffs against Tampa and had that great game for us. I know that he likes to be counted on and relied upon. It's really going to be up to him to show what he can do. He's got the skill set for it, and he's got the experience of what it is to play NHL playoff hockey."
This season, Seguin clearly made progress in becoming a more complete pro player, posting 16-16-32 totals and a plus-23. A guy who used to turn away from contact now instigates it. He backchecks, he blocks shots, he generally has come to understand the game has to be played not just with the puck, but also without it.
Seguin enters his third postseason much better equipped than in his first two.
"I think that's a good way to put it: better equipped," Seguin said. "I feel like I have more experience. I've tried to advance and complete my game as a forward, at both ends of the ice. So with the game I play now, I'm more confident going into the first-round series than I was last year."
Seguin and linemates Bergeron and Brad Marchand went out for steak dinners Monday night in the Seaport District, and they talked about the role the Bruins need them to play. The line carried the team much of the first two months of the 48-game season, then tailed off.
"I don't know if I can say any of us had the greatest of years like we wanted to," Seguin said. "It was a very up-and-down season for us as individuals and as a unit. We went out and sat down and talked about it over dinner. I think we're going to jell right back and get the consistency back."
Not for the first time, Neely said he wants to see Seguin shoot more — and not be quite so unselfish in trying to set up his mates.
"The way I look at is, sometimes it's being selfish not to shoot the puck," Neely said. "That whole line can be too unselfish. Tyler has speed that I'd like to see him use more on the outside, to put himself in positions to shoot the puck — especially with March and Bergy driving to the net. It would create more scoring opportunities for that line."
Seguin knows it.
"There are times when I have the chance to bear down and shoot the puck hard, and I make an extra play," he said. "Maybe on a 2-on-1, shoot it low, instead of trying to make that fancy pass."
Questioned extensively about his past allegiance to the Maple Leafs as an Ontario native, Seguin admitted, "It's kind of almost a weird feeling, maybe a little bittersweet. I grew up watching them my whole life. I'm excited they made the playoffs. They had a great year. I'm excited to be playing them."
And in a position to play a key role in sending them home disappointed.
Seguin ready for spotlight against Kessel, Leafs
Matt Kalman
NHL.com
BOSTON — When the 2012-13 regular season ended and the final standings paired the Boston Bruins against the Toronto Maple Leafs for a first-round Stanley Cup Playoff series, the matchup made an impact on the Seguin family.
"I don't know if they were that happy," Bruins forward Tyler Seguin said of his family's reaction. "My sisters weren't the happiest. They've got to go to school and deal with it all, unlike me. But I don't think they care too much. They're excited that we're in the playoffs, first of all, and they're excited that we're playing them."
Seguin, from Brampton, Ontario, grew up rooting for the Maple Leafs. Now he'll try to make Toronto's first appearance in the playoffs since 2004 a short one. Game 1 of the Bruins-Maple Leafs series is Wednesday at TD Garden (7 p.m. ET, CBC, RDS, CNBC).
If history is any guide, Seguin should play a huge role in his current team's attempt to beat his childhood rooting interest.
In 16 regular-season games against the Maple Leafs, Seguin has 10 goals and 16 points. That's the most points the 21-year-old has accumulated against any opponent in his three-season NHL career. He admitted after practice Tuesday the games against the Maple Leafs are "something extra special," and he's not the only one who feels that way.
In addition to being from the Toronto area, Seguin was selected by the Bruins with a draft pick that originally belonged to the Maple Leafs. The pick, which wound up No. 2 in the 2010 NHL Draft, was part of the package Toronto traded to Boston in exchange for forward Phil Kessel. The Bruins used two other picks acquired in the deal to select forward prospect Jared Knight in the third round in 2010 and defenseman Dougie Hamilton in the first round of the 2011 draft. Games between the Bruins and Maple Leafs in Boston often feature the crowd mocking Toronto's sniper with chants of "Thank You Kessel!" and booing him mercilessly.
Every Maple Leafs-Bruins game since the Kessel trade has felt like a referendum on that deal. Bruins linemate Brad Marchand said Seguin thrives on the spotlight.
"I think he knows a lot of people are watching and a lot of things are expected of him when we're playing against Toronto," Marchand said. "The fact that he came with their pick and he's from there, he's got so much friends and family there, and he's also a superstar. I think all those things combined, he's expected to bring a lot and he rises to the occasion."
Seguin's 16 goals in 48 games this season put him on pace to just about match his 29 goals from a season ago over an 82-game schedule. However, he scored once in the final seven regular-season games and the Bruins' offense as a whole stumbled to the finish line. Now it's up to Seguin to make sure those struggles don't carry over into the postseason. Against the Washington Capitals in the first round last year — a series the Bruins lost in seven games — it took him until Game 6 to get on the score sheet.
"I think that was almost kind of how things have gone this year, not being able to finish off chances and bury the puck," Seguin said. "But I thought, it's a year ago now, but I think I was playing well, I just couldn't score too much. And then the last few games it started paying off and it was too little too late. So I think when I look at this first-round series, it's about getting off to a better start for myself."
For most of the first half of the season, Seguin, Marchand and Patrice Bergeron formed Boston's most consistent line during their second season together. Injuries and problems on the other lines, though, forced some juggling by Bruins coach Claude Julien. Now it appears that line will be reunited against Toronto.
It's a line that will be counted on to produce and keep the opponent's top scorers off the board. And the trio has thrived because Seguin has improved enough as an all-round player to hang with his more-experienced teammates.
"I think he's matured a lot, but also he's learned to play both sides of the ice," Bergeron said. "So that really makes him a better player. I think that goes a long way when you're able to do that and do the little things, the little details, to get your linemates the puck or get the puck out of the zone, whatever it is. It makes a huge difference. And, yeah, I feel he's improved in all those aspects that you don't necessarily notice, but as a player and as a linemate it helps a lot."
Seguin's continued growth into an upper-echelon player who could continue to decimate the Maple Leafs won't make life any easier on his sisters and family back home. But in Boston, Seguin's play makes everyone thankful.
"I don't know if I can say any of us had the year that we wanted to. It was a very up-and-down year for us as individuals and as a unit," Seguin said. "But I think us as a line, when we were going, we stayed consistent for a while until things … we had injuries, guys started going out of the lineup and things started to get switched around. So I think now that we know we're back together, we went and sat down and talked about it over dinner and I think we're going to jell right back again and get that consistency back. So this will be a great time."
May 2
Peter LeBlanc heating up at the right time for the Hershey Bears
Kevin Freeman
LancasterOnline.com
HERSHEY — Peter LeBlanc's first two pro hockey seasons came and went without the experience of playing in the postseason.
This season, his third as a pro, he's made it to the playoffs with the Hershey Bears.
Any trepidation he might have had about about dealing with the increased pressure to produce points in the playoffs has gone out the window quickly.
LeBlanc, 25, picked up three assists in the Bears' 5-4 OT win over the Providence Bruins in Game 2 of the Eastern Conference quarterfinal playoff series last Sunday in Rhode Island and had two in Game 1 of the series, giving him a team-leading five points heading into Saturday's Game 3.
LeBlanc and the Bears can clinch the best-of-five series with a win Saturday (opening faceoff, 7 p.m.).
LeBlanc (5-foot-11, 200 pounds) was acquired by the Bears from Rockford (Chicago Blackhawks organization) for Matt Beaudoin on Jan. 31. He scored 24 goals for the IceHogs last season but only four in 34 games prior to the trade this season. The disparity in his output could be traced to Rockford having deeper scoring depth during the NHL lockout.
LeBlanc, a seventh-round draft pick (186th overall) by the Blackhawks in 2006, scored eight goals and assisted on 10 more in his 18 regular-season games with the Bears.
Leblanc's two assists in Game 1, one on the power play, helped the Bears build a 4-0 lead. In Game 2, LeBlanc's pass set up Ryan Stoa's breakaway goal just 3:14 into the game to put Hershey up 1-0 in a series where strong starts have bolstered the Bears.
"I got a pass from (Julien) Brouillette and I saw Stoa streaking down the wing," LeBlanc said. "Their defenseman played me instead of Stoa so I fed him an area pass and he made a great move on the breakaway."
LeBlanc has certainly helped the Bears' power play, which has scored in five of their 10 chances over the first two games of the series. Three of LeBlanc's five points have come on power play goals, including Jon DiSalvatore's game-winner in Game 2.
"When we acquired him, he was having a bit of a down year for a number of reasons," said Hershey coach Mark French. "He didn't have a lot of offensive confidence when he got here but it's grown. He got hot in the last two weeks of the season and, fortunately for us, he's stayed hot."
LeBlanc did not get a lot of power play time in Rockford. Now that he has in Hershey, it's helping his five-on-five game as well.
"You get more touches of the puck on the power play so when you're playing five-on-five, you're more comfortable with the puck," French said. "Plus, with goal-scoring, guys get streaky and he's on one for us right now."
Stoa has been playing on a forward line with LeBlanc fairly consistently since LeBlanc arrived in Hershey. Matching the two has worked out well.
"Peter is easy to play with and is a smart player," Stoa said. "We've been close to putting pucks in the net for a long time. They seem to be going in right now."
LeBlanc may get a new linemate to pass the puck to on Saturday with heralded rookie Tom Wilson joining the Bears. Wilson, the Washington Capitals' first-round selection (16th overall) in the 2012 draft, comes to Hershey after his junior team, the Plymouth Whalers, were eliminated from the Ontario Hockey League playoffs.
Wilson (6-4, 210), a right wing, skated on a line with LeBlanc and Stoa in practice Thursday at the Giant Center.
"He's a big body," French said. "He plays an abrasive style. You wouldn't have to ask him to play physically and he has a bit of a mean streak in him. He also has some pretty good skill."
Wilson had nine goals and eight assists in 12 playoff games for Plymouth.
LeBlanc will be glad to distribute the puck to any of his wingers, hoping the passes lead to goals.
"Going to Providence and stealing two games is obviously huge for us but it means nothing unless we finish it off this weekend," LeBlanc said. "We don't want to give them any confidence or motivation. The start (of the game) is big. If we get all over them, we can put them in panic mode."
Something that LeBlanc, despite his limited playoff experience, has managed to avoid so far.
Canadiens rookies rely on fathers for support (Larionov)
Tal Pinchevsky
NHL.com
After finishing last in the Eastern Conference last season, the Canadiens have already punched their ticket to the 2013 Stanley Cup Playoffs, thanks in large part to the contributions of rookie forwards Alex Galchenyuk and Brendan Gallagher.
Entering Saturday, 20-year-old Gallagher ranked second among NHL rookies with 13 goals, and 19-year-old Galchenyuk ranked second among first-year players with 15 assists. But their roads to Montreal couldn't have been more different.
A standout since the age of 13, Galchenyuk was the first player taken in the 2010 Ontario Hockey League draft before being selected third in the 2013 NHL Draft. Undersized, Gallagher was taken in the ninth round of the Western Hockey League draft before the Canadiens selected him in the fifth round, No. 147, at the 2010 NHL Draft.
But there is one major similarity in their divergent paths to Bell Centre: the presence and sizeable role of their fathers.
"We have a lot of talks. And not just about hockey. 'Are you healthy? Are you happy? Any questions for your parents?'" Ian Gallagher said. "There isn't a lot of advice that comes from us in terms of performance. That's left to their team. In terms of mental health and mental wellness and general approach to life, we have plenty of conversations."
As the longtime strength and conditioning coach of the WHL's Vancouver Giants, the team that selected Brendan 195th in 2007, Ian Gallagher was able to work with his son for four years. At the same time, Alex Galchenyuk Sr. was grooming one of the world's top prospects. The elder Galchenyuk started coaching his son with the Dynamo Moscow development program, guiding a 13-year-old prodigy who would star on a team made up of players a year older. Galchenyuk Sr. would continue to coach his son in Chicago midget hockey and joined the Sarnia Sting's coaching staff when the team selected Alex Jr. first in 2010.
"I kind of help him. I don't push him. I just share information and he reacts. He'll ask me 'What's a better way to this, this and this?'" said Galchenyuk Sr., who admits he was surprised to see his son make the Canadiens roster as an 18-year-old. "I didn't expect that. But I had a good feeling. His last game before [competing for the United States at the] World Juniors, he got five points and dominated. In my head, I thought it was probably the last game for him in junior."
Gallagher wasn't nearly as hands-on with his son's junior hockey development. In fact, he was somewhat wary when the Giants added his son to their roster.
"It's just uncomfortable. Sometimes you have to do things with players that are not necessarily something that parents agree with but are in the interest of the program," Gallagher said. "I think everybody made the best of it and ultimately benefitted from it. From a selfish point of view, it's nice to have your son at home while he plays junior hockey."
The rookies have endeared themselves to the Montreal fans this season. After starting the season as a healthy scratch, Gallagher has become a favorite thanks mostly to the fearlessness and energy he's demonstrated on the ice. They are qualities his father identified at a young age.
"That's something that I think is part of Brendan's identity. He likes to compete and he enjoys competition," Ian Gallagher said. "He likes to be successful in competition. In order to do that, you have to pay a price. I don't think he looks at himself as sacrificing any more than anyone else on the team."
While Gallagher has often been portrayed as the hard-working underdog, Galchenyuk has been making headlines for years. Adding the 2013 World Junior title to his formidable resume, Galchenyuk has enjoyed incredible success at a young age. But it hasn't come without hard work for the Milwaukee-born player, who lives with his mother and older sister in Montreal.
"People don't realize how hard he works. He is staying focused. He's controlling what he is doing," Galchenyuk Sr. said. "It's not like other teenagers. He has practice and his individual stuff. He controls what he eats always. He's got his own menu and his mom and his sister cook for him. It was very hard for him to stop drinking Coke."
Much like their sons, Gallagher and Galchenyuk Sr. enjoyed different careers playing hockey. Gallagher played Junior A but describes himself as having "no chance of being a professional in the sport." Galchenyuk Sr. played for Dynamo Moscow as well as the fearsome Soviet national team before coming to the United States to play for the Milwaukee Admirals of the International Hockey League.
Entering the playoffs, the two Canadiens rookies have provided stability for one another. Together they'll be sharing the experience of competing for the Stanley Cup for the first time.
"They are friends. It makes him adapt quicker. Even in the locker room and in practice and in games," Galchenyuk Sr. said. "It's better if two young players have good communication off ice and on ice. It always helps."
Their backgrounds may be wildly different, but Gallagher shares Galchenyuk Sr.'s assessment of the bond their sons now share in Montreal.
"The fact that they're experiencing the exact same things for the first time together is tremendously helpful," Gallagher said. "Brendan talks about what a good person and a good player [Galchenyuk] is. That also makes it very comforting."
Tyler Seguin's be-Leaf tested
Mark Daniels
BostonHerald.com
As a child, Tyler Seguin frequently sat in the stands at the Air Canada Centre with his father Paul. He cheered, envisioned himself on the ice, and hoped for a Toronto Maple Leafs win and eventual playoff run.
Seguin got his wish. He's in the NHL and was on the ice last night as the Maple Leafs made the playoffs for the first time in eight seasons. But rather than wearing blue and white, he wears black and gold as his Bruins locked horns with Toronto in Game 1 of their Eastern Conference quarterfinal series.
Though his loyalty changed, Seguin said the series still is sentimental.
"It was my hometown. So I'd go to Leaf games all the time," Seguin said prior to the game. "When we go and play at the ACC, I'll kind of look up at some sections where I know I was sitting growing up as a kid with my dad. I grew up hoping we'd at least make the playoffs and here we are playing against (the Bruins). It's a cool experience."
Seguin never forgot his roots. When he was 13 he played at the Westwood Arena for the Toronto Young Nationals, 19 miles from the Air Canada Centre. When the Bruins won the Stanley Cup, in his rookie season, Seguin brought the Cup back to Toronto and to Westwood for other potential pro prospects to see.
But with the nostalgia that a series with Toronto brings, there's also the ever-popular comparison with Phil Kessel.
In 2009, the Bruins traded Kessel to the Maple Leafs for a 2010 first-round pick, a 2010 second-round pick, and a 2011 first-round pick. Neither the Bruins nor the Maple Leafs knew what would become of the draft picks, but the B's emerged with Seguin and another Toronto native Dougie Hamilton with those chips.
Seguin doesn't believe comparisons to Kessel are justified.
"It's not like they knew I was going to be the pick. It was just a pick and it happened to be me and Dougie," Seguin said. "I guess it's going to be linked just because it's what people want to talk about and have stories. But other than that, I think Phil is a great player and I definitely have respect for him on the ice. I've met him a few times off the ice. He's a good guy."
As he skated last night, Seguin was living his dream, only this one includes the twist of a Toronto loss.
"It's an exciting experience, but I want to take it as just a playoff run," Seguin said. "(It's) not about who you're playing. You've got to come out and make sure you're ready."
Galchenyuk's First Playoff Point (Larionov)

May 3
Thiessen fine with short notice
Tom Venesky
TimesLeader.com
During the first two games of the series against the Binghamton Senators, Jeff Zatkoff stopped 69 of 73 shots to guide the Wilkes-Barre/Scranton Penguins to a pair of wins.
For Thursday's Game 3, however, Zatkoff was a late scratch.
In his place stood Brad Thiessen and his 25 games of playoff experience.
Call it a luxury, having a veteran backup to turn to in case number one can't go.
"For sure. When (head coach John) Hynes gives the tap to the other guy, I'm sure he feels like it's a luxury as well," said center Trevor Smith.
Even if that starting nod comes a bit late.
Zatkoff practiced in full on Wednesday, but was a no-show on Thursday when the team skated onto the ice for warm-ups. Hynes said the team was monitoring Zatkoff's condition late Wednesday night, and he described it as "pre-existing" and "nothing serious."
Anyhow, it was enough to give the start to Thiessen – a decision that wasn't made until five hours before the start of Thursday's Game 3.
Before then, Thiessen spent the last couple of weeks wondering if he had played his last game as a Penguin.
"It crossed my mind a little bit. Maybe the last game of the season," Thiessen said. "Thankfully it wasn't."
Despite the short notice, Thiessen turned in a stellar performance on Thursday, stopping 19 0f 21 shots to guide the Penguins to a 3-2 win. Not bad for a player who only had a few hours to prepare for big playoff game.
"I had a bit of an inkling (Wednesday night) there might be a chance. Coach called me in the afternoon (on Thursday) to tell me it was my game," Thiessen said.
Although it was Thiessen's 26 AHL postseason game, he admits to feeling a few butterflies before the start.
It's the playoffs, after all.
But his teammates had no uneasy feelings about playing Game 3 with Thiessen, and not Zatkoff, in net.
"He's a veteran guy and he's taken this team far in the playoffs before," said Riley Holzapfel. "We're not really too worried about it when you have a guy like Brad than can come in and steal you games."
And that's exactly what Thiessen did. After allowing an early goal to Binghamton in the first period, he kept them at bay for the rest of the night while his teammates got their offense in order and tallied three goals in the third period for the win.
About the only thing that Thiessen's teammates felt was a bit odd was how he could come in on short notice and play so well.
"Goalies are weird," said Zach Sill. "They get ready and you just let them do their thing. We had full faith in Brad that he was going to come out and do the job."
Hynes said Zatkoff will rejoin the team for Sunday's practice and he described his condition as day-to-day. While the Penguins next opponent has yet to be determined, as has the start of the second round, Thiessen assured he will be ready if he gets the nod for another start.
Even if it comes at the last minute.
"You'd like to know ahead of time, but you try to prepare the same way whether you're playing or not," he said. "As a player you try to elevate your game, and I think I can do that in the playoffs and be a difference-maker. Zatkoff's been doing a great job, and if I'm called upon again I'll try to bring the same thing."
Laurent Dauphin 2013 U18 Highlights

Andrew D'Agostini named 2012-13 MVP of Peterborough Petes
Mike Davies
Peterborough Examiner
Holding his most valuable player award Andrew D'Agostini says his work with the Peterborough Petes isn't done.
D'Agostini carried away three awards and Brett Findlay four from the Petes year-end banquet Friday night at the Trentwinds International Centre.
D'Agostini's remarkable second-half turnaround epitomized the club's dramatic improvement after Christmas. D'Agostini went on to get his first taste of pro in the ECHL and as a back-up for one AHL game, after the Petes season ended. However, the Petes' second-half surge has left D'Agostini wanting more.
"I dreamt of this day and I still have dreams I haven't reached, yet," D'Agostini. "My goal is to bring a championship to this city and I'm doing everything I absolutely can to achieve that. They absolutely deserve it. I tell everyone who asks I can't explain how proud I'd be to play a fifth and final season here."
D'Agostini has seen the team go through adversity and wants to experience success before he leaves.
"I can't explain, despite the lack of success and the ups and downs, how proud I am to wear the maroon and white. I'd love to come back for a fifth year and bring a Cup and some playoff rounds and exciting hockey to pick up where we left off last season," he said.
Galchenyuk sets up winning goal vs Ottawa (Larionov)

May 4
Roy delivers another 'wow' game
The Record
The Thunder doesn't let the little things, or the big things, bother it.
Stockton was outshot, gave up a quick goal in the third period and had one of its scores waved off by officials. But none of that swayed the Thunder, which got another playoff gem from goaltender Olivier Roy and beat the Idaho Steelheads 3-1 Friday in the opener of the ECHL Western Conference finals in front of 3,556 at CenturyLink Arena in Boise, Idaho. Game 2 will be at 4:10 p.m. Sunday.
The Thunder took the lead with 6 minutes, 42 seconds remaining in regulation on a goal by Max Boisclair, and Ryan Hayes contributed an insurance goal with 1:27 left. But to get to the victory, Stockton had to go through the usual ups and downs that have marked its postseason.
The Steelheads generated plenty of chances, outshooting Stockton 36-22, but Roy was strong again, turning away every offering except for David de Kastrozza's shot 14 seconds into the final period to tie the game 1-1.
Soon after that goal, Harrison Reed seemed to have given Stockton the lead, but the officiating crew led by referees Joe Sullivan and J.M. McNulty reversed the call.
The Thunder regrouped, and Boisclair eventually got it the lead.
"We've been great at not letting anything like that bother us," Thunder coach Thomas said. "And Roy was great again; it may have been his best game of the playoffs."
Roy's 35 saves was the most he's had in a postseason game this season.
"No matter what happens, you have to keep pushing," Roy said. "The defenders in front of me played so well. They blocked shots, and didn't let them get to rebounds.
The Thunder will be hosting a watch party for Game 2 at the King's Room at Stockton Arena. Admission is free, and doors will open approximately 30 minutes before game time.
Loktionov plays for Russia (Larionov)


Photo by Martin Rose/Bongarts/Getty Images
Sharks' Scott Gomez could play Game 3 against Vancouver Canucks
Curtis Pashelka
MercuryNews.com
SAN JOSE — Sharks coach Todd McLellan is optimistic center Scott Gomez will be available to play against the Vancouver Canucks on Sunday in Game 3 of their opening round series at HP Pavilion.
Gomez, out with soreness since he took a big hit April 23 against the Dallas Stars, skated again Saturday at the Sharks practice facility. He skated before games one and two in Vancouver but was held out of the lineup both times.
"There's no doubt we'd like to get him into the series. He makes a big difference to our team, especially with the power play," McLellan said. "He's got the ability to control the puck. As soon as he's ready and feels good and knows that he can go into that type of competitive environment and contribute, then we'll use him."
San Jose went 0 for 5 on the power play in Friday's 3-2 overtime win over the Canucks, who were effective in bottling up the neutral zone on the penalty kill and not allowing the Sharks to skate into their offensive end unimpeded. Gomez is usually part of the second power play unit.
"This time of year, you just want guys to score," Gomez said. "You're not worried about, 'If I was out there, this would have happened.'"
Gomez is eager to rejoin a playoff push after missing the postseason in 2012 with the Montreal Canadiens, who finished fifth in the Northwest Division.
"This is the real season, this is what you play for," Gomez said Saturday. "Regular season's great, but this is the fun part. To know that you're playing in the playoffs, especially after missing it last year. You know you have a chance to win the Stanley Cup. … You want to be out there, but we'll see what happens."
May 5
Scott Gomez Pregame

more
THE RIG 28 week ending Apr 28th
on April 23rd, 2013 by Pulver Sports
Apr 22
Spirit Announce Signing of Top Pick Mitchell Stephens
SaginawSpirit.com
The Saginaw Spirit announce today that the team has reached terms on an OHL contract with first round pick Mitchell Stephens. The Peterborough, Ontario native was selected eighth overall in the 2013 OHL Priority Selection after posting 44 goals and 40 assists this past season with the Toronto Marlboros Minor Midgets program. Stephens will be participating at this weekend's Spirit Development Camp, and will also showcase his skills at the upcoming 2013 OHL Gold Cup. The four day event will include eight teams outfitted with 160 of the premier under 16 aged players in Ontario, and will go from May 9th to 12th in Kitchener. The tournament will feature seven players who were selected by the Spirit in the recent OHL Priority Selection.
Dauphin with 2 goals, Verhaeghe with 3 assists in Canada's 10-1 win
Adam Steiss
IIHF.com
Laurent Dauphin and Josh Morrissey had two goals each as Canada improved its U18 record to 3W-0L.
Carter Verhaeghe assisted on the opening goal from Zachary Nastasiuk seven minutes into the first period. Just under four minutes later, an own goal by Swiss forward Luca Fazzini as he tried to clear the puck from the net following a scrum gave Canada the 2-0 lead.
Things got worse for the Swiss in the second period, as Josh Morrissey, Morgan Klimchuk, Nicholas Baptiste, Laurent Dauphin, and Dillon Heatherington each found the back of the net to push the lead to 8-1.
Sam Reinhart added another marker in the third period, and Dauphin scored his second to close out the 10-1 victory.
Canada will play Group B leaders Sweden in their final preliminary round game, the winner of which will earn the top seed and a matchup against the fourth seed from Group A in the quarter-final.
Dallas Stars activate Lane MacDermid, set roster for final playoff push
Edmonton Oilers winger Nail Yakupov wants to finish strong, vie for Calder Trophy (Larionov)
Joanne Ireland
Edmonton Journal
EDMONTON – The prize is close, exasperatingly so. But Edmonton Oilers winger Nail Yakupov has gleaned enough wherewithal during his rookie season to champion the team-first approach.
So when the conversation turns to the NHL's rookie scoring race and the Calder Trophy, and all matters related to individual achievements, Yakupov says his focus is fixed on finishing strong.
A strong finish, coincidentally, would get him that much closer to the rookie scoring title.
Yakupov was kept off the scoresheet in Monday night's 3-0 loss to the Anaheim Ducks at Rexall Place, extending his pointless streak to three games.
The Oilers have three games left to play and Yakupov needs three points to catch forwards Jonathan Huberdeau of the Florida Panthers and Ottawa Senators' Cory Conacher for the scoring lead. Huberdeau has 14 goals and 14 assists through 45 games; Conacher has 11 goals and 17 assists.
"Every rookie wants to win the trophy. But, for me, I don't want to think about it. We'll see," Yakupov said.
The 19-year-old from Nizhnekamsk, Russia, followed Ryan Nugent-Hopkins and Taylor Hall to the draft podium when the Oilers made their third straight first overall selection at the entry draft last June in Pittsburgh and then made his debut when the lockout-shortened season got underway on Jan. 20.
He admits now it has been an adjustment.
"Maybe in the first part of the season when I started scoring goals, I thought it was an easy league and that this would happen in every game," he said. "But, no, you have to work every day. It's a pretty tough league. Guys on every team are pretty strong and they play physical.
"So if you want to score and help your team win, you have to work really hard."
Nugent-Hopkins finished with 52 points in 62 games in his rookie season and was a finalist for the Calder last spring. Gabriel Landeskog of the Colorado Avalanche, who also had 52 points (22 goals, 30 assists in 82 games) took the rookie-of-the-year prize.
"He's got an unbelievable shot," Oilers defenceman Ladislav Smid said of Yakupov. "I don't know what it is with the Russians, what they feed them. But he's got a release similar to (Alex Ovechkin of the Washington Capitals and the New Jersey Devils' Ilya Kovalchuk). So we all know he's going to be fine offensively. It's just a learning process for forwards. It's hard to learn the defensive side of the game, but he's been fine.
"And his work ethic is unbelievable — on and off the ice. He's always the last guy out there and he works out all the time. That's good to see. There are not too many young guys like that … it took me a few years to learn that."
Yakupov scored his first NHL goal in his second game, then immediately followed that up with a game-tying goal against the Los Angeles Kings two nights later. His celebratory slide on the ice will not be forgotten any time soon.
Along the way, Oilers head coach Ralph Krueger has monitored the rookie's minutes and his role, moving him from the top six to the bottom six and back up again. He has watched the winger add a physical component to his game, and is hopeful he will eventually spend more time in the scoring areas, given his quick stick.
The defensive side of his game is evolving, too.
In the first 22 games, Yakupov registered six goals, six assists and was minus-10. In the next 22 games, he had five goals, eight assists and was plus-one.
On Monday against the Ducks, playing with new linemates Anton Lander and Teemu Hartikainen, Yakupov was on the negative side of the ledger again. He turned over the puck in the first period, setting in motion a Ducks power play that Ryan Getzlaf converted into a 1-0 lead. Then he was on the ice when former Oiler Radek Dvorak, left alone at the side of the net, tapped in his fourth of the season to make it 2-0.
He also took a puck in the face, early in the third, shortly before Sami Vatanen beat Oilers goalie Nikolai Khabibulin top shelf to drop the Oilers to 17-21-7. They have now lost eight of their last nine games.
Edmonton will play host to the Chicago Blackhawks on Wednesday, then face the Wild in Minnesota on Friday and the Vancouver Canucks back at Rexall Place the following night for the season finale.
Chicago rookie Brandon Saad is right on Yakupov's heels with 10 goals and 15 assists.
"If you want to be the best player, you have to play everywhere and you have to work and listen to your coaches and your teammates," said Yakupov, who is pushing the 82-game mark this season. He played 22 games in the Kontinental Hockey League, played in the August series between Canada and Russia as well as the 2013 world junior championship in Russia.
"I feel way better (with my game), way more comfortable with the puck," he said. "I have changed my game a little bit."
Apr 23
Former Moosehead Gabriel Desjardins enjoys bittersweet homecoming with Huskies
Andrew Rankin
MetroNews.ca
It wasn't the type of homecoming Gabriel Desjardins was hoping for.
The former Halifax Moosehead and current Rouyn-Noranda Huskies captain left the province's capital on Sunday empty-handed with his squad down 2-0 in their semifinal series against the Herd.
"It was a hard one, it hurt a lot," said Desjardins, who picked up three assists in the Mooseheads come-from-behind overtime victory. "We showed a lot of character, it was a really close game. We just didn't get it done."
Going home he knows the Huskies have their work cut out for them.
But even after Sunday's painful loss, he said it was good to be back where he spent three and a half years developing into the player he is today.
"I remember scoring my first goal as a 16 year old here, that was very special for me, and my first hat trick against Gatineau, that was a great game and a great win for us."
Beyond his on-ice accomplishments, he remains grateful for his billet family, the MacEacherns.
"Lorraine (MacEachern), she was like a mom to me, she did everything for me.
She was a big part of my development.
"It was funny coming back here, I played three and a half years here, the fans were really great to me, but at the same time I have a job to do. I have a responsibility to my teammates."
Apr 24
NHL.com Over The Boards – Larionov on Yakupov and Galchenyuk (Larionov)
Dan Rosen
NHL.com
Rookie Watch, Part 1: Larionov on Yakupov
Hall of Fame player turned agent Igor Larionov wants his prized client, Edmonton Oilers rookie Nail Yakupov, to make sure he preserves his occasionally controversial brand of showmanship as he continues to develop as a player.
"It's not like he's showing off; it's his normal way of life and how he plays hockey," Larionov told NHL.com during an interview Sunday at Madison Square Garden. "That's what I like, his excitement. It should be there every night whatever happens, if you're losing or if you're winning."
The Oilers have been losing a lot lately, but Larionov said he has seen growth in Yakupov's game. He has been scoreless in three straight games but had at least one point in seven of the previous 10 games and has 25 points in 45 games this season.
"I told him the other day that he's going through a 48-game season so there's not much time to look around and adjust your game, adjust your style," Larionov said. "He has to look at it like he's doing four years of college in one year, learning on the fly.
"Right now I can see he's more comfortable. He's starting to control the puck a little bit longer and he's making some plays, which is his normal game. I'm glad that every time he steps on the ice he shows some character and desire to play, which is good. He's still having fun, still enjoying every minute."
Rookie Watch, Part 2: Larionov on Galchenyuk
Larionov also told NHL.com his plan was to visit his other prized client, Montreal Canadiens rookie Alex Galchenyuk, within a few days to talk to him about what to expect in the Stanley Cup Playoffs.
"He doesn't know what it's all about," said Larionov, who played in 150 NHL playoff games and won the Stanley Cup three times with the Detroit Red Wings. "He knows the atmosphere in Montreal is good and every game they have 20,000 fans with tons of media attention, but with Montreal going to the playoffs, it's a different game. That's what I want to talk to him about."
Larionov probably won't have too much explaining to do. Galchenyuk hasn't looked out of place in the Canadiens lineup.
He entered the game Tuesday at the Devils with 24 points and a plus-10 rating while playing more than 12 minutes a game on the Canadiens' third line. The numbers aren't staggering, but considering Galchenyuk, 19, missed all but two games last season with a knee injury, his season has been quite impressive.
"I'm not surprised," Larionov said. "Last year, with his injury, it was like he took one year off. But I know the way he had been working and the way he had been preparing himself, the way he had been rehabbing to get ready for this season. I knew every single day he was getting better, better and better, so he was gaining some confidence."
Former Minuteman Irwin Tapped As Sharks Rookie Of The Year
UMassAthletics.com
SAN JOSE, Calif. – Former UMass defenseman Matt Irwin has been selected as the 2012-13 Sharks Rookie of the Year, the team announced prior to its game against the Dallas Stars last night. Irwin has played in 35 games this season, posting 12 points (six goals, six assists), which ranks third among all team defensemen and fifth in the NHL among rookie blueliners. Irwin is also tied for the League lead amongst rookie defensemen in power play goals with four and is third in goals with six.
From March 14-18, Irwin posted a three-game goal streak, tying the longest in franchise history for a defenseman and had eight shots on net on March 10 at Colorado, which marked only the 10th time in Sharks history that a defenseman had eight or more shots on net in a game. He made his NHL debut in the Sharks' season opener on Jan. 20, a 4-1 win over the Calgary Flames and was on the ice for 19:06, including 51 seconds on the power play.
Irwin turned pro following his sophomore season at UMass and was named an AHL All-Star with the Worcester Sharks in 2011-12. He signed a two-year contract extension with the Sharks on April 3, 2013.
The Victoria, B.C., native played in 67 games with the Minutemen and totaled 42 career points on 14 goals and 28 assists.
Jimmy Lodge mentioned in final Central Scouting Service rankings before 2013 NHL Entry Draft
Cory Butzin
MLive.com
SAGINAW, MI — The Central Scouting Service for the National Hockey League released its final rankings in preparation of the 2013 NHL Entry Draft in a list that features a pair of Saginaw Spirit standouts.
Forward Jimmy Lodge came in as the No. 21-ranked player in North America, while forward Nick Moutrey came in at No. 58.
The draft is held at the Prudential Center in Newark, New Jersey on June 30.
Lodge had a breakout season for Saginaw, moving to the No. 1 line with Garret Ross and Eric Locke following the trade of Vince Trocheck. He finished with 28 goals and 39 assists.
Nine players at one time associated with Wolves drafted to OHL
Barbara-Ann MacEachern
MyKawartha.com
(KAWARTHA LAKES) It was a very successful OHL draft for local teams and players recently, with a total of nine players who either played in the Kawartha Lakes or live here making the cut.
"It was crazy. Me and my mom just jumped up and hugged, and my mom started crying," remembers Jesse Saban who was picked up by the Erie Otters, 21st overall in the second round. Jesse was at home in Lindsay with his mom, Cindy, and his grandfather, Raymond, when he received the news.
"It was pretty incredible, I was speechless when people were calling me."
Being picked 38th overall was also a big shock for the 16-year-old defenceman who said he wasn't expecting to go that high in the draft. He was also thrilled to be picked up by the Erie Otters.
"I wanted to go there at the start of the year, so I was happy they picked me," he said, adding that a friend from school also plays on the team and many within the organization have been very friendly and welcomed him on social media.
Mr. Saban attends Peak Center Academy in Toronto, a school for elite athletes and has played for the Toronto Red Wings AAA hockey for about three years.
He credits his 6-foot, 3-inch, 205-pound frame in part for his successful draft, noting that he's a big guy and, "I'm really strong in my defensive zone," he says.
But he doesn't stop there, noting that he will be working hard going into training camp season with his new team.
"I think there is always room for improvement on everything, but my skating definitely, I need to get faster and making quicker decisions on the ice and making the smart call, [because] sometimes the easier play is better."
And while the young player humbly says you never know what can happen over the summer, at this point he says he's got his eye on a spot on the team next season.
"I feel pretty confident I'm going to be a part of their team next year, so I'm just going to stay positive and work as hard as I can."
Before moving to the Red Wings, Mr. Saban spent three or fours years with the AAA Central Ontario Wolves, which he says was a great learning experience and really helped develop him as a player.
Ryan Rupert scores in Knights' win
Nail Yakupov's goal vs Chicago (Larionov)

Apr 25
Ouellet has hat trick to lead Armada over Drakkar 4-3 in QMJHL semifinal
The Canadian Press
BLAINVILLE, Que. – Xavier Ouellet completed a hat trick with a tiebreaking goal in the third period as the Blainville-Boisbriand Armada defeated the Baie-Comeau Drakkar 4-3 on Wednesday in QMJHL playoff action.
The Armada evened the best-of-seven semifinal series 2-2, with Game 5 set for Friday in Baie-Comeau, Que.
The game ended on a ugly note, as a team-wide brawl broke out just as the horn sounded to end the game. The benches cleared and soon the ice was littered with sticks, gloves and helmets as almost every member of each team found a fighting partner. The brawl lasted for several minutes before teams finally headed to the locker rooms.
Ouellet opened the scoring with a power-play goal at 7:24, but Marcus Hinds tied the game three minutes later with his second of the post-season.
Valentin Zykov put Blainville-Boisbriand back up by one with a goal at 8:30 of the second, but again the Drakkar responded minutes later as Carl Gelinas netted a goal 10:16.
Ouellet made it 3-2 with under five minutes left in the period, but Baie-Comeau's Felix Girard scored early in the third to tie the game once again.
Ouellet got his third at 4:56 and goalie Etienne Marcoux made 10 saves in the final period to preserve the lead. He finished the game with 27 saves on 30 shots.
The Drakkar went 0-for-7 on the power play.
Dauphin scores for Canada in win over Czechs
Desjardins scores hat trick in final QMJHL game
Apr 26
Tyler Seguin at Arena Bar & Grille

Clendening recalled from Rockford
Dauphin, Verhaeghe to play for Gold

Yakupov's goals vs Minnesota (Larionov)

Apr 27
Oil Change Extended: Nail Yakupov's Training (Larionov)

Yakupov's hat trick vs Vancouver (Larionov)

Apr 28
Dauphin and Verhaeghe win gold with Canada
Yakupov hat trick could be a deciding factor in selecting NHL's top rookie (Larionov)
Jim Matheson
Edmonton Journal
EDMONTON – Nail Yakupov might not be the first Edmonton Oiler to win the Calder Trophy, but he's going to make it very interesting for the voters before Tuesday's deadline for the ballots to be filled out.
It was a Tale of Two Seasons for the rookie winger. He had one goal in a 26-game stretch from Feb. 4 through March 30, but scored five goals his last two games and finished with 17. That was the most on the Oilers, also No. 1 for any of the other rookies — Jonathan Huberdeau of the Florida Panthers, Brendan Gallagher of the Montreal Canadiens and Brandon Saad of the Chicago Blackhawks.
The excitable Russian forward tied Huberdeau for the most points (31) and his hat trick against Vancouver Canucks goalie Roberto Luongo in the third period Saturday was the only three-goal game by a rookie this season.
"Yeah, I want to be top rookie, but we'll see," Yakupov said. "It's nice to be the leader (in goals), but I want to play in the playoffs. Next year, for.sure."
Yakupov said Oilers captain Shawn Horcoff helped him over the rough spot the last month as a linemate.
The feeling was mutual. It's never a bad thing for the guy with the "C" to play with the young gun, either.
"I thought he did a really good job of learning what it takes to play in this league to play better defensively, to be more patient. And with the patience came more offence," said Horcoff. "The sky's the limit with this kid. He's got a great release."
Yakupov treats every goal like it's Game 7 of the Stanley Cup final. He's never at a loss for a celebration after a goal, whether it's piling into the glass, saluting people, or after his hat-trick goal, thrusting three fingers in the air.
Vancouver tough guy Tom Sestito even mocked one Yakupov celebration after he scored his first Canucks' goal in the last period.
Imitation is the greatest form of flattery, eh?
"I'm all for it (celebrating). The kid's got energy," said Horcoff. "It's not like he's showing off. He's learning to celebrate the right way, without making everybody on the other team upset."
Except Sestito.
"Hey, first year in the league, why wouldn't he be excited scoring goals," said Horcoff.
Taylor Hall, no stranger to passion after a goal, has no problem with Yakupov's exuberance.
"He shows his enthusiasm no matter what game it is … same story in practice," said Hall. "We've just seen a pretty cool transition period for a first-year player from Game 1 to Game 48."
Yakupov's offence was a given as a junior with the Sting in Sarnia, also on the world stage with the Russian junior team. He's just scratched the surface, and he finished only minus four on the season, admirable for a rookie on a 24th-place team.
"He's made a lot of strides in areas I'm sure he wasn't well-known for (play away from the puck)," said Hall. "I hope he takes this confidence into the off-season and comes back with a boatload of it."
Oilers coach Ralph Krueger played Yakupov in all 48 games, even through his stretch when nothing was going in. Krueger felt playing night after night was the education Yakupov needed, not sitting in the press box for a game or two.
"Yak spent so much time the first third of the season trying to find his position on the ice away from the puck that he had trouble integrating himself in the offence," said Krueger. "But as the process went on, he was so coachable, so interested in tapping into all of our resources, whether that was spending extra time with the assistant coaches or with our fitness coach, getting video from our video coach. He was trying to improve every single day.
"It so nice to see a young player work this hard and get the results so quickly. For him to lead the rookies in scoring, what he did in the second half … we're all excited for him. His future is very, very bright."
Yakupov still hasn't been invited to play for Russia in the world championship next week at Helsinki and Stockholm.
"No calls yet," he said with a shrug.
After his hat trick, Russia general manager Alexei Kasatonov may rethink things and give him a buzz.
"We'll see," said a grinning Yakupov.
Mitchell Stephens and Ryan Orban impress at Saginaw Spirit Development Camp
Cory Butzin
MLive.com
SAGINAW, MI — The Saginaw Spirit got a glimpse of their future over the weekend and it appears to be bright.
Saginaw hosted prospects and recent draft selections at Saginaw Bay Ice Arena on Saturday, April 27 and Sunday, April 28 for its annual Spirit Development Camp where players competed in a pair of scrimmages under the watchful eye of Spirit personnel.
"In general, we're pretty happy with most of the kids," Saginaw General Manager Jim Paliafito said. "There's really no one who disappointed. Kids we picked in the 10th and 11th round played really well. We're very pleased."
First round selection Mitchell Stephens suited up for the white team, wearing No. 7 and showed off the speed and offensive skill that made him the No. 8 overall pick in the 2013 OHL Priority Selection.
He was the strongest skater on the ice and generated several scoring opportunities for both himself and teammates.
"I've waited my whole life for this, all the way back to novice," Stephens said. "I've wanted to play in the OHL, and playing for the Saginaw Spirit is a great honor."
"I thought Stephens was really good," Paliafito said. "(David) Ovsjannikov, the goalie, was outstanding. Connor Graham, who we drafted last year was really good. Chris Bennet from last year's draft was good. (Ryan) Orban, I thought, was the best defenseman."
Mike Cammalleri: Year-End Interview

more
THE RIG 28 week ending Apr 21st
on April 16th, 2013 by Pulver Sports
Apr 15
Galchenyuk's goal vs Philadelphia (Larionov)

Irwin's goal vs Phoenix

Checkers get first-rounder Murphy
TheAHL.com
The Carolina Hurricanes have assigned defenseman Ryan Murphy to their top development affiliate, the AHL's Charlotte Checkers.
Murphy, 20, recently wrapped up his fourth season with the Ontario Hockey League's Kitchener Rangers, where he ranked ninth among OHL defensemen with 48 points (10g, 38a), despite playing only 54 games. He also added three goals and four assists in 10 playoff games before Kitchener was eliminated on Friday.
A first-round draft pick (11th overall) by Carolina in 2011, Murphy made his NHL debut with the Hurricanes in February, going scoreless in four games. In 228 career OHL games, he racked up 220 points (53g, 167a), while adding 57 points (12g, 45a) in 53 career playoff games. Murphy was also a member of Team Canada at the 2013 World Junior Hockey Championships.
Apr 16
The end came unexpectedly for Keevin Cutting
Bill Walker
Owen Sound Sun Times
The end came as a shock to Keevin Cutting.
The Owen Sound Attack captain felt his Ontario Hockey League team was built to go a long way in the playoffs.
So Sunday's 3-1 Western Conference semifinal loss to Plymouth not only ended the Attack's dreams of a championship but also the 20-year-old Bracebridge native's OHL career.
"I thought we had the team to bring it to the top," Cutting said on Sunday.
"Sometimes it doesn't end the way you want it to."
Cutting played five seasons in Owen Sound, setting the franchise record for games played at 374 (327 regular season and 47 playoffs).
"It's been a huge honour being part of this team and especially to be captain," the defenseman said.
"We've had great success. I know we weren't voted to be where we are now so I'm really proud of our team."
The stay-at-home defenseman won't bring fans out of their seats with his play but he was an invaluable shutdown D for the Attack.
"He's a great guy and a phenomenal teammate," Attack coach Greg Ireland said.
"He's poured his heart and soul into this organization and it will be tough to see him leave because of the quality person he is. Really what he brought to the table is leadership."
Blue Jackets Add Defenseman David Savard to Active Roster on Emergency Recall from American Hockey League's Springfield Falcons
Press Release
The Columbus Blue Jackets today announced that defenseman David Savard has been added to the team's active roster on emergency recall from the Springfield Falcons of the American Hockey League.
Savard, 22, totaled 44:35 of ice time in three games played with Columbus earlier this season and has recorded 5-26-31 with 40 penalty minutes and a +12 plus/minus rating in 60 appearances with the Northeast Division-champion Falcons in 2012-13. The St. Hyacinthe, Quebec native was originally selected by the Blue Jackets in the fourth round, 94th overall, of the 2009 NHL Draft. The 6-2, 219-pound blueliner has tallied 2-8-10, 16 PIM in 34 career NHL games and 20-76-96, 130 PIM in 176 career AHL appearances.
Kellan Lain Sportsnet Feature

Nail Yakupov pregame (Larionov)

To Russia with hope
Bill Potrecz
The Standard
Carter Verhaeghe's stock continues to rise.
The 17-year-old centre has gone from a suspect to a legitimate National Hockey League prospect thanks to a strong finish to his sophomore season with the Niagara IceDogs.
Verhaeghe, who finished fourth on the IceDogs in scoring with 44 points in 67 games, can now add international experience to his resume after being named to Team Canada at the 2013 IIHF World under-18 championship.
Verhaeghe will be heading to Sochi, Russia Wednesday to join the rest of Team Canada for the tournament which gets underway Thursday with the start of the preliminary round. Verhaeghe becomes only the second IceDog named to the spring under-18 Canadian team. Freddie Hamilton was selected in 2010.
"It was a bit of a surprise," the Waterdown native said. "They called me earlier in the month and told me I was on their short list and they would keep in touch. The next call I got (Monday) was to go to Russia."
Verhaeghe admitted he wasn't quite sure if he still even had a shot to make the team.
"I didn't know if I was going or not or what the process was," he said. "They take guys right up to the 17th. I was just hoping to get a call and I got it."
Niagara coach Marty Williamson is thrilled to see Verhaeghe get this opportunity.
"These opportunities don't come along that often and you have to take advantage of them," Williamson said. "For him, I think he deserves it. He had a wonderful second half. He's on everyone's list so it's nice to see his rewarded.
"When you put on that Canadian jersey, everything gets magnified."
Verhaeghe is naturally thrilled with the opportunity to represent his country.
"It's going to be great. I've never been to Europe so that will be cool," Verhaeghe said. "It will be awesome playing hockey over there and representing Canada."
Verhaeghe got some advice about playing for Canada from former IceDogs teammate Ryan Strome.
"I texted him and told him and he was excited for me," Verhaeghe said. "He told me just to enjoy the experience and have fun with it but he told me the good is not very good!"
Verhaeghe saw his stock rise thanks to a solid second half. The turning point may have been a chat with Williamson where the coach and Verhaeghe discussed the fine balance between working too hard off the ice and in practice and therefore not having a full tank left for the games.
"He practiced hard. There were no hiccups that way," Williamson said. " He just realized how important each shift was and when you see what works, you tend to buy in even more. It's just that learning process and kids get it at different times."
Looking back, Verhaeghe now feels he has struck the right balance between work and recovery.
"It was important in the playoffs and down the stretch. I need my rest and I need to be 100% every night to help the team," he said. "Right now, I just need to focus everything on the team and helping the team do the best they can."
Verhaeghe, who is eligible for the 2013 NHL Entry Draft June 30 at the Prudential Centre in New Jersey, is well aware a strong showing at the tournament could further increase his stock. He was ranked 122nd by NHL Central Scouting in their midterm rankings.
"It potentially could. I'm not sure what the NHL teams are thinking," he said. "Playing against these players will only help my game. I'm just looking to develop and get better as a hockey player."
Lifelong dream comes true for Waterdown's Verhaeghe; he'll wear the Maple Leaf
Scott Radley
TheSpec.com
Several weeks back, he got a call from Hockey Canada telling him he was on the short list for the world under-18 tournament team and might soon get an invitation to play for his country. Stay ready.
So he did. After all, the event is a big deal. Tons of future NHLers have played in it over the years and used it as a final launching pad to the draft. Plus, Carter Verhaeghe had never worn the Maple Leaf before. In fact, he'd never even played for Team Ontario. For him it would be a really big deal.
Except it didn't happen. The phone didn't ring. When the list of players came out online and Twitter posts started flying around, he wasn't on it.
"When I didn't see my name, I guess I was a little disappointed," says the 17-year-old from Waterdown.
It's probably fair to suggest his level of disappointment was slightly more acute than what he's letting on. How could it not be? He's never had trouble making any team in his life.
The St. Mary's student was a star on the Hamilton Jr. Bulldogs, which got him selected in the second round of the OHL draft in 2011. He made the Niagara IceDogs in his first try and put up decent freshman totals of four goals and 12 assists.
With more playing time this year, he exploded. His totals shot up to 16 goals and 28 assists. That landed him in the 122nd slot on NHL Central Scouting's list of draft-eligible players. Meaning he's almost certain to be picked in June.
Even so, after the IceDogs were eliminated in the first round of the playoffs and he didn't hear anything from the national program, he began making backup plans. Namely, beginning his off-season training.
"I wanted to be in shape for the draft," he says. "Who knows, I might've been invited to the combine."
Then, on Monday, he was eating lunch at school when his phone rang. It was his coach from Niagara.
Hockey Canada was going to be calling any minute, Verhaeghe was told. You're in.
They did call, too. Elated, he texted his parents, told some friends who were nearby, and raced home to go get a picture done so he could get his travel visa. Then started packing for the trip with his mind wandering a little bit.
"When I was growing up, I always wanted to wear a Canada jersey," he says. "It's a huge honour. I never thought it would be a reality."
It is now. On Wednesday, he jumps on a plane and flies to Sochi, Russia — site of next winter's Olympics — where he'll catch up with the rest of the team that's been there for a few days and has already had some exhibition games. The tournament starts the next day. If Canada makes it all the way to the finals, he won't be getting home until the very end of the month.
Of course, this means he's going to miss a few tests back at school.
"Quite a few," he says.
Does that bother him? Especially this late in the academic year?
He laughs.
"Don't mind a bit."
Dauphin and Verhaeghe named to Team Canada's U18 Roster
Bolduc v Gomez

BriseBois: New Syracuse Crunch defenseman Artem Sergeev here to get a head start on next year (Larionov)
Lindsay Kramer
Syracuse.com
While not ruling out the possibility that he could play this year, Tampa Bay assistant general manager Julien BriseBois said that new Syracuse Crunch defenseman Artem Sergeev's main task is getting a jump start on next season.
BriseBois said this is an important time in the player getting to know his new surroundings and coaches, and the organization also has a chance to update its scouting report on him.
The 6-foot-1, 205-pound defenseman played for Val d'Or Foreurs of the QMJHL this season.
In 55 regular season games, Sergeev posted six goals and 33 assists for that team. In 10 playoff games, he went 3-3.
"He is a really good athlete, real strong physically," BriseBois said. "We look forward to working with him on his overall game."
Dauphin scores shootout winner for Canada in U18 Exhibition vs Czech Republic
Yakupov's goal vs Minnesota (Larionov)

Apr 17
Life between the pipes: a profile of Steelheads goaltender Tyler Beskorowany

Galchenyuk's goal vs Pittsburgh (Larionov)

Apr 18
Galchenyuk's goal vs Tampa Bay (Larionov)

Apr 19
Bruins, Tyler Seguin thank first responders
Boston Globe


(Credit: Steve Babineau)
After the Bruins' emotional game Wednesday — a shoot-out loss to the Sabres, unfortunately — Tyler Seguin and his teammates hung around to say hello to some of the police, fire, and emergency personnel (above) who were the first responders after the Marathon bombings.
Unconventional road led Oakville's Kellan Lain to NHL deal
Jon Kuiperij
InsideHalton.com
Seven years ago, not many could have predicted a potential National Hockey League career in Kellan Lain's future. Not even Kellan Lain himself.
Having been cut by midget AAA teams in Mississauga, Oakville and Halton, Lain had had his fill of rep hockey and chose instead to suit up for his T.A. Blakelock Tigers high school team. More than developing his skills or being exposed to scouts, Lain simply wanted to enjoy the game again.
"I hadn't really been enjoying hockey for the previous four or five years. It wasn't something I really wanted to do anymore," recalls the 23-year-old Lain. "I decided to play high school hockey and have some fun with my buddies. Then my plan was to play junior B and go to university in Canada."
Playing high school hockey in Halton, one of the few regions in Ontario that do not allow rep players, isn't exactly the best way to get noticed. But, ironically, it might have been the best hockey decision Lain ever made.
Blakelock coach Ken Butler had assembled a strong team when Lain attended the school. Lain wasn't even the Tigers' star, according to the coach.
"He was one of my top six forwards," says Butler, whose team also featured future Ontario Hockey Leaguer Mitch Fillman. "I wouldn't even say he was my No. 1 centreman."
But under Butler, who demanded defensive responsibility but encouraged creativity in the offensive zone, Lain rediscovered his love for the game. The Tigers reached the Halton final in both years Lain played on the team.
"When you enjoy playing the game, it makes a huge difference. You are comfortable and you are confident. Those are big things to be successful in hockey," Lain says. "(The first season playing for Blakelock) was a big year for me. Even though it was just high school hockey, it was probably the year that changed everything for me."
Lack of size, something Butler feels was the main reason Lain had been cut by those midget coaches, was no longer an issue either. By the time Lain graduated from Blakelock, he was well over six feet tall.
"He probably grew a foot in high school," Butler says.
Played three seasons with Oakville Blades
The Oakville Blades took notice of Lain's strong play with the Tigers, and Lain joined the local junior A team in the fall of 2007. Lain went on to play three seasons for the Blades, helping Oakville reach two national championship tournaments during that span and parlaying that exposure into a scholarship from Lake Superior State University.
Last month, Lain moved one step closer to the NHL dream he had once given up on, inking a free agent deal with the Vancouver Canucks.
"I think it's sunk in now," Lain says. "For the first little while, it was surreal because it's something I've wanted so badly and worked so hard for and had to overcome a lot to get here."
When Lain talks about what he's had to overcome, he's talking about more than being cut by several teams or seeking a way to enjoy the sport again.
As dim as Lain's hockey future might have appeared in 2007, the outlook was even darker two years later. Lain sliced the ulnar artery of his left wrist on an opponent's skate while playing for the Blades, a scary injury that threatened to end his playing career.
It took nearly a year for Lain to recover. He underwent two surgeries and put in countless hours of extensive rehabilitation with hand specialists at Oakville Trafalgar Memorial Hospital before returning to the Blades' lineup in time for the 2010 postseason.
"It was hard work, but it was something that made me stronger and made me appreciate everything in life more," Lain says.
Perhaps it is that perspective gained that makes Lain content with the role hockey executives and scouts project him to fill as a pro.
Though he averaged nearly a point a game during his final two seasons with the Blades, the best-case scenario for the 6-foot-6, 220-pound centre appears to be as a defensive specialist.
"We see him as a bottom-end centre, more like Paul Gaustad or maybe a David Steckel type player. That kind of guy," Canucks assistant general manager Laurence Gilman told the Vancouver Province.
"He can be a shutdown centre."
That's the type of backhanded compliment Lain has received for the past several years. Some might not be flattered by it, but Lain takes it in stride. He also says it doesn't bother him that he has yet to record a point in 10 games with Vancouver's American Hockey League affiliate, the Chicago Wolves.
"As you move up in pro hockey, everyone plays their own role. Every team has goal scorers and top skill guys, and every team has role players as well. It's just being a piece of the puzzle," Lain says.
"When you get this far, you're playing with some of the best players in the world. Being able to be good at a few things that a team needs is important. I'm fine with that… A third-line centre role is what I see myself as well. I don't disagree with anything anybody says."
Words spoken by someone who sounds as though he's just happy to be there. And also someone who is grateful he played high school hockey at Blakelock.
"I'm sure the coaching he gets now is better than I (provided)," Butler says.
"But I'm sure he got something here."
CISCO Arena Cam: Mike Cammalleri

Apr 20
Seguin goal vs Pittsburgh

Seguin postgame

Apr 21
Penguins pair wins Hap Holmes Award
Press Release
SPRINGFIELD, Mass. … The American Hockey League announced today that Jeff Zatkoff and Brad Thiessen of the Wilkes-Barre/Scranton Penguins are the recipients of the Harry "Hap" Holmes Memorial Award for the 2012-13 season. Since 1972, the award has been presented to the goaltender(s) with at least 25 games played on the team which allows the fewest goals in the regular season.
Wilkes-Barre/Scranton surrendered a league-low 178 goals in 2012-13, finishing its regular season on Saturday with a record of 42-30-2-2 and 88 points, qualifying for the Calder Cup Playoffs for the 11th consecutive season. This is the second time in the last three seasons that the Penguins ranked first in the AHL in goals against.
Zatkoff posted a 26-20-0 record and five shutouts in 49 appearances for the Penguins, leading the AHL with a 1.93 goals-against average and compiling a .920 save percentage. Thiessen, who also won the Hap Holmes Award in 2010-11, was 16-12-2 with four shutouts, a 2.68 GAA and a .902 save percentage in 32 games.
The Harry "Hap" Holmes Memorial Award, which was first awarded in 1948 to the goaltender with the best goals-against average in the AHL, is named for Hockey Hall of Famer Harry "Hap" Holmes, a prominent figure in early professional hockey and an outstanding goaltender of his time. Previous winners or co-winners of the award include Gil Mayer (1951, '53, '54, '55, '56), Johnny Bower (1957, '58), Marcel Paille (1961, '62), Gerry Cheevers (1965), Gilles Villemure (1969, '70), Pete Peeters (1979), Pelle Lindbergh (1981), Olaf Kolzig (1994), Mike Dunham (1995), Manny Legace (1996), Jean-Sebastien Giguere (1998), Martin Biron (1999), Joey MacDonald (2003), Jason LaBarbera (2005, 2007), Dany Sabourin (2006), Cory Schneider (2009), Cedrick Desjardins (2010) and Ben Scrivens (2012).
Irwin fine with one-game break
Kevin Kurz
CSNBayArea.com
SAN JOSE – Sharks rookie defenseman Matt Irwin needed a break.
On Tuesday against the Kings, he was pulled from the lineup in favor of Scott Hannan, who had been recovering from a neck injury and had yet to play since he was acquired by the Sharks at the April 3 trade deadline. Irwin returned on Thursday against Minnesota, and was an effective player in nearly 20 minutes of ice time, finishing +2 with three shots on goal.
"For him to get a game just to sit and watch and catch his breath, I thought we saw the results of that tonight," McLellan said after the 6-1 victory over the Wild on Thursday. "He was fresher, and made some good plays."
Unlike the majority of Sharks, some of whom played overseas for a brief stretch of time, Irwin has been playing regularly since early October. He started the season with AHL Worcester, and played 35 games there total. Combine that with 34 games his rookie season at the NHL level, without much time for a break, and it's been a hectic year for the 25-year-old.
Irwin had no qualms with watching a game from the press box after 24 in a row on the ice.
"They saw stuff in my game that wasn't where it was at before, and that could have to do with me playing a lot of games and minutes down there and then coming up here, and playing every other night," Irwin said on Saturday. "I agreed with their decision, of course. They wanted to get Scottie into a game, and it was good to see him out there and back in a Sharks uniform. Whatever I had to do to help the team, I'm all for."
How is his energy level now?
"Good. I feel great. You're always thinking about the next game after you play. You've got one day to kind of relax, keep to yourself, and you're right back at it.
"It's been a lot of fun, and a good journey so far. We've got a good group of guys in here, and we're looking to go a long way."
To say it's been a successful season personally for the British Columbia native, who recently signed a two-year contract extension, is an understatement. Irwin's six goals tie him for second in the league among rookie defensemen, with Justin Schultz of Edmonton and just one behind L.A.'s Jake Muzzin. His 10 points is tied for sixth.
He continues to show a knack for getting shots to the net, and is third in the league for rookie defensemen with 72. He has four games with at least five shots on goal, more than any other first-year blueliner.
Varone scores, Rochester clinches playoff spot
Loktionov's goal vs NY Rangers (Larionov)

Cammalleri's goal vs Minnesota

Scott Gomez's 700th point

more
THE RIG 28 week ending Apr 14th
on April 9th, 2013 by Pulver Sports
Apr 8
Cammalleri's GWG vs Colorado

Rockford IceHogs' rookie Adam Clendening grows his game
Reed Schreck
RRStar.com
ROCKFORD – Rockford IceHogs captain Martin St. Pierre paid rookie Adam Clendening an awfully big compliment.
"We need him the last five games," he said.
Sure, Clendening was going to play anyway as the 'Hogs head down the stretch nearly needing to win out to qualify for the AHL playoffs, starting with Wednesday's game at Peoria. Clendening's play, though, is one reason the team is even in contention.
He scored the third-period, game-winner Saturday in Peoria. Overall, he has seven goals and 36 assists, collecting the most recent in Sunday's 4-1 win over the same Rivermen. He stands ninth in points (43) among all rookies and tied for second in assists.
He's playing more like someone who has been around awhile instead of less than one full season of pro hockey.
"On the ice, the game has come a little bit easier night in and night out over the course of the year, Clendening said. "Part of it is playing every night and getting more comfortable."
As St. Pierre said, "At this time of the year, we don't consider anyone a rookie. He's making a name for himself, and that's what you need."
If Clendening is feeling the pressure of the team's late playoff rush, he isn't showing it.
"I take it in stride," he said. "I don't think they've made the playoffs the last couple of years, so the guys are desperate and starting to buy into that.
"It'd be cool to make the playoffs my first year and get that experience right away. We'll see how it goes."
Josh Leivo has 4 points as Kitchener beats London 6-2
Apr 9
Irwin featured in 'The EJ5′ – Impressive Rookie Defensemen

Agozzino's OT goal gives Lake Erie 5-4 win over Syracuse Crunch
Apr 10
Whale sign forward Barclay Goodrow to ATO
CTWhale.com
Whale general manager Jim Schoenfeld announced today that the Whale has signed forward Barclay Goodrow to an Amateur Tryout (ATO) agreement.
Goodrow, who stands 6-2 and weighs 214 pounds, played the last four seasons for the Brampton Battalion of the Ontario Hockey League. The 20-year-old Toronto native led the Battalion in points and goals this year, with 38 goals and 14 assists for 52 points in 62 games, and was second on the club in penalty minutes with 59. Goodrow added five postseason points, tied for second-best on the team, with two goals and three assists, in five games.
In 250 career games with Brampton, Goodrow has totaled 94 goals and 68 assists for 162 points, along with 187 PIM.
Seguin's GWG vs New Jersey

Yakupov's goal vs Phoenix (Larionov)

Desjardins scores twice and assists on OT winner
Apr 11
Prospect Clendening named AHL Second-Team All-Star
Rockford IceHogs
Rockford, Ill. – The American Hockey League announced on Thursday that Rockford IceHogs rookie defenseman Adam Clendening has been named to the 2012-13 AHL All-Star Team, earning Second Team honors.
The Niagara Falls, New York native has set IceHogs rookie records in assists (36) and points (43), and his point total also ranks fifth among Rockford skaters. The blueliner shares a team lead in plus/minus rating, showing a +14 in 69 contests throughout his rookie campaign.
Clendening also ranks in the top-10 amongst AHL rookie scoring leaders. His 36 assists rank second among all AHL rookies and are good for tied-11th overall in the AHL, as well.
Earlier in the year, the rookie d-man was selected to represent Rockford at the 2012-13 AHL All-Star Classic in Providence, R.I. – along with IceHogs captain Martin St. Pierre.
Clendening joins Springfield goaltender Curtis McElhinney, Syracuse defenseman Mark Barberio, Texas winger Matt Fraser, Hershey center Jeff Taffe and Syracuse winger Brett Connolly on the AHL's Second Team All-Star honors.
Edmonton Oilers rookie Nail Yakupov finds himself in the company of Calder Trophy candidates (Larionov)
Jim Matheson
Edmonton Journal
EDMONTON – Edmonton Oilers rookie winger Nail Yakupov has worked his way into the Calder Trophy picture with eight points in his last eight games.
But it's the fire in Yakupov's belly that's really hitting home. He had a scuffle with Keith Yandle late in the Oilers loss to the Phoenix Coyotes on Wednesday. He also fought with Curtis Glencross of the Calgary Flames and left with some scrapes on his face.
The 19-year-old Russian, who has 23 points in 40 games, including 10 goals, doesn't like to lose.
"He likes to stick up for himself," said Oilers winger Taylor Hall. "There are similarities in the way we play. He's an aggressive player who'll go into the hard areas.
"We're starting to see him throw bodychecks. You have to do that. If you want to play on the perimeter and stay on the outside, you won't produce. By going to those areas, sometimes that means you take a shot in the face."
Oilers head coach Ralph Krueger has played Yakupov all over the place in his first NHL season. He was on a line with captain Shawn Horcoff and veteran left-winger Ryan Smyth on Wednesday night, with Smyth setting him up for his 10th goal.
"He played some with Gags (Sam Gagner) and (Ales) Hemsky at the end, but I thought the line he was on was probably our best line," Krueger said. "He accepts wherever we put him.
"There's a freeness of spirit about the way Yak plays."
Yakupov is third in the NHL in rookie scoring four back of Florida Panthers' Jonathan Huberdeau, who leads all first-year players with 13 goals and 27 points.
Cory Conacher, who's now an Ottawa Senator after being traded from the Tampa Bay Lightning for goalie Ben Bishop, has 25 points.
Yakupov, who leads all rookies with five power-play goals, and Chicago Blackhawks' Brandon Saad, currently playing with captain Jonathan Toews, have 23 points apiece.
"Nail's matured a lot on the ice and made a huge commitment to playing well defensively," Hall said.
"But what you're seeing now is him shooting the puck (10 shots in the last five games) and getting into the offensive zone … he's making simpler plays than he did at the start (of the season)," said Hall, who went through the same learning curve as the NHL's first overall draft pick.
"The NHL isn't a league you can ease into. It's always tough for a young guy."
Griffith, Matt Rupert back to scoring form
Ryan Pyette
London Free Press
Seth Griffith took part in a shooting session with the London goalies in between Games 3 and 4 of the Knights' second-round series with the Kitchener Rangers.
For pretty much the first time since he suffered a broken bone in his hand, he was firing the puck with the same kind of power he had before the injury.
That's a major boost for the former 45-goal man — and the Knights' — offensive confidence. He went out and scored in the first period of Game 4 Wednesday night at the Kitchener Memorial Auditorium.
Griffith and Matt Rupert were London's best goal scorers the first half of the season. But through the first seven playoff games, they had combined for just one goal.
They scored the first two goals in Game 4.
That's a good sign, though Rupert left the third period with a leg injury.
Rupert didn't have an injury slowing him down heading into the playoffs. He hadn't scored since he was suspended 10 games — the final nine in the regular season and the first playoff game — for a charge on Saginaw defenceman Steven Strong.
The 18-year-old Grand Bend native had a three-game goal -scoring streak right before the punishment, to give him 26 on the season. But it's hard to keep the momentum going after a month on the sidelines.
"I'm pretty well there," Rupert said. "I (was) a little off. I'm a little rusty, but I don't think I've done badly."
Rupert started on a line Wednesday night with his brother, Ryan, and Bo Horvat, who has made his case to be a younger version of last year's playoff MVP Austin Watson. That Watson-Rupert line was top-notch in the OHL title run, even when they didn't score.
"All that matters is getting the win,'' Rupert said.
No one appreciates a blood-boiling battle quite like the Ruperts. They thrive on it.
But before Game 4, Matt was trying to be the voice of reason.
"We got to stay out of that kind of (extracurricular) stuff here," he said, "and just focus on playing hockey. We have to stay out of the scrums and stuff like that. They're trying to get us off our game and we've got to worry about playing our game. We've got to play hard between the whistle in this series.
"We don't want to get sucked into their type of game."
The Knights want to dictate to the Rangers how the games will be played.
The more offensive chances they create, the better the opportunity of getting Griffith and Rupert scoring consistently again.
This game may have been the spark.
Seguin's goal vs NYI

Galchenyuk's goal vs Buffalo (Larionov)

Apr 12
In Worcester, Admirals fan turns into foe
Jim Hodges
HamptonRoads.com
At this time of year, Norfolk Admirals coach Trent Yawney talks of the move from college or junior to professional hockey.
"It's the biggest step a hockey player takes," Yawney said.
Chris Crane took it a week ago, when he left Ohio State after his junior season to sign with the San Jose Sharks and join their AHL affiliate in Worcester.
Whether it was bigger than the one he took to leave Hampton Roads after the fifth grade is another story.
"I played for the Hampton Roads Whalers," Crane said. "I can remember skating between periods of the Admirals' games. I was a big fan."
Tonight and Saturday, he will skate against the Admirals, who visit Worcester for key games in the playoff stretch. Crane plays right wing, largely in a checking role he adopted at Ohio State.
He started skating shortly after he began walking. His father, retired Marine Claude Crane IV, grew up in Chicago and as a kid skated with Brett Hull and longtime NHL defenseman Chris Chelios.
"We were in the (Hampton Roads) area for about 10 years," said Kim Crane, who works with her husband in their auto business near Cincinnati and has followed her son through most of his hockey stops. "My husband coached in Chesapeake. It was hard to get people to commit that much money for their children to play hockey. We would sometimes go to tournaments with only 15 or so players on a roster."
While Hampton Roads maintains a healthy program at Chesapeake's Chilled Ponds – then called Arc Ice – growth opportunities are limited. Local hockey observers can recall only three other players from the program – Jay Holladay, Beau McLaughlin and Gary Williford Jr. – playing professionally, and all topped out in lower minor leagues.
As a second-grader, Crane remembers trying out for a fourth-grade team.
"I was just going out to have fun," he said. "I didn't have any expectations. When the coach came and said, 'You made the team,' that was the first travel team I played for."
Retirement from the Marines sent the family to Ohio, where a business opportunity awaited. So did hockey, though the Cranes found the quality wasn't that far removed from Hampton Roads. Chris Crane quickly outgrew Cincinnati hockey and was offered a chance to play for Detroit Honeybaked, a national-class club.
The family business allowed his parents to rent an apartment in Detroit for them and their 14-year-old son.
He was scouted and eventually drafted by the U.S. Hockey League's Green Bay Gamblers as a high school junior. There, he played for Jon Cooper, who later coached the Admirals and now coaches the NHL's Tampa Bay Lightning.
"He developed my game to where I am today, and I'm thankful for it," said Crane, whose parents rented an apartment in Green Bay and shuttled back and forth from the business to Wisconsin.
Crane chose Ohio State over an Ontario junior team because it was nearer to his home and parents. He also was drafted by San Jose in the seventh round in 2010. The Sharks recommended he continue growing and developing as an amateur. That changed after his junior season at Ohio State.
"I was told that I actually would develop more in the American League than I would in college," Crane said.
The assessment noted his size – 6-foot-1, 193 pounds – and his chippy playing temperament.
"They think I will be a better pro than I was in college because of the way I play the game," Crane said.
The AHL season soon will be over, and ahead for Crane are more classes – probably online – to get his degree. Some of his school work may get done in Sandbridge, where the family plans a summer vacation and where sister Tiffany, a physician's assistant, resides.
"It's always good to go back to where you grow up, to where you came from," Crane said.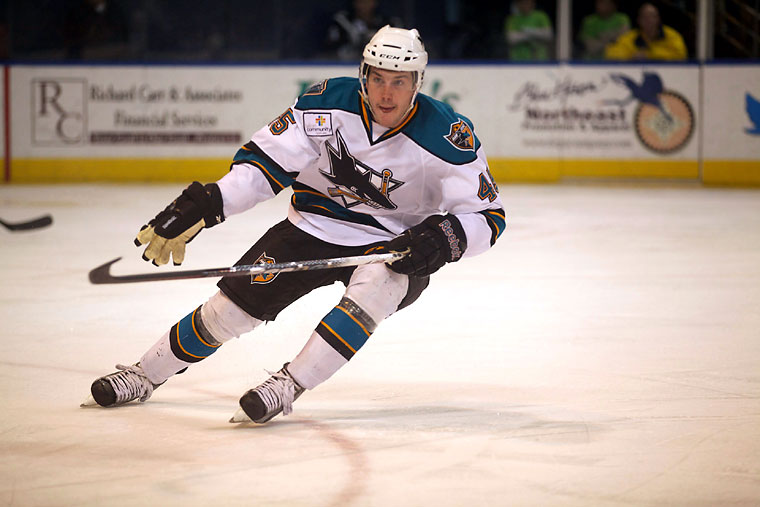 Bolduc vs Calgary

Agozzino scores twice in Lake Erie Monsters 6-2 win over Hamilton Bulldogs
Ryan Rupert scores, London advances past Kitchener
Apr 13
Seguin scores vs Carolina

Andreoff scores twice in Manchester win
Apr 14
more
THE RIG 28 week ending Apr 7th
on April 3rd, 2013 by Pulver Sports
Apr 1
Devils' Loktionov paying dividends since coming over from Kings (Larionov)
Tom Gulitti
The Record
With the trade deadline only two days away, the Devils stumble home from a three-game road trip in which they lost twice in a shootout and once in overtime to face the Islanders tonight in a game pivotal to both teams' playoff chances.
The Devils are seventh in the Eastern Conference, four points ahead of the ninth-place Islanders, with 13 games remaining. If Devils general manager Lou Lamoriello makes another move to strengthen his team before Wednesday's 3 p.m. deadline, it will be difficult for him top the payoff he's gotten so far from the deal he made Feb. 6 for center Andrei Loktionov.
In what has been a steal for the Devils, Lamoriello gave the Los Angeles Kings just a fifth-round draft pick for Loktionov, who has seven goals and four assists in 18 games since joining the team.
"We've been very fortunate with how things have worked out with Loktionov," Lamoriello admitted.
Loktionov, 22, considers himself very fortunate, too. Since being drafted in the fifth round in 2008, the native of Voskresensk, Russia, had gotten a taste of the NHL with the Kings, playing in 59 regular-season games, including 39 last season. He also played in two playoff games during their run to the Stanley Cup last season, but did not get his name on the Cup as he fell two regular-season games short of the required number.
Loktionov was toiling again on the Kings' AHL team, waiting for another chance to play in the NHL, when the Devils acquired him.
"I just wanted to play and New Jersey gave me that chance," Loktionov said. "I think I'm doing not bad. I'm so glad to be back playing in the NHL. That's all I needed, I guess – to play at this level."
Loktionov wanted to play in the Russia-based Kontinental Hockey League during the NHL lockout, but the Kings forced him to play in Manchester, N.H., which prompted him to request a trade.
"I was so mad because I had been in Russia for months and they told me I had to come back. 'You have to play here,' " he said. "I didn't know the reason to play here. I had played already three years in the AHL. Maybe it was a showcase [for a trade]. I don't know."
With Loktionov slated to become a restricted free agent this summer, Kings GM Dean Lombardi told The Los Angeles Times that he feared Loktionov "could go back to Russia," so he took the best deal he could get after the lockout ended.
Loktionov said the idea of playing in Russia next season never entered his mind.
"You never know, I guess, but I wasn't thinking about going to Russia," he said. "Maybe [Lombardi] was thinking that, but not me."
Loktionov couldn't be happier with how things worked out, though.
"I'm so happy now," he said. "But, at beginning of the season I wasn't so happy."
Before Ilya Kovalchuk injured his right shoulder, Loktionov had earned a spot as the center on his line. With Kovalchuk out, he's been playing mostly with Adam Henrique and Matt D'Agostini.
Kovalchuk's absence hasn't slowed Loktionov, who had two goals and an assist during the Devils' three-game road trip.
"Every day that I'm around him, I'm impressed by something he does; a skill play he makes you didn't see coming," coach Pete DeBoer said. "There's something every day that he kind of surprises you [with]."
Nail Yakupov pre-game interview (Larionov)

Irwin celebrates Sharks win

Sandlak scores, Bulls win the series
Apr 2
Sharks Sign Right Wing Christopher Crane
Press Release
SAN JOSE, California – San Jose Sharks Executive Vice President and General Manager Doug Wilson announced today that the club has signed right wing Chris Crane to an entry-level contract. In keeping with club policy, financial terms of the deal were not disclosed.
The 21-year old Crane recently completed his junior season at Ohio State University, posting nine points (6-3-9) and 69 penalty minutes in 38 games played.
"Chris has done a great job, under the tutelage of Head Coach Mark Osiecki, in preparing himself for this next stage of his career," said Wilson.
During his 2011-12 sophomore campaign, Crane registered 24 points (14-10-24) and 30 penalty minutes in 35 games played. He led Ohio State in goals (14) and was tied for first in points (24), sharing the team's Leading Scorer Award. Amongst all CCHA players, Crane ranked tied for eighth in power play goals (6) and tied for 12th in total goals scored (14).
Crane is a two-time Ohio State Scholar-Athlete, an Academic All-Big Ten choice, and recipient of the 2011-12 Perani Cup, an award given to the player who earns the most three-star honors on his team during conference play.
The six-foot-one, 195-pound native of Westchester, Ohio was drafted by San Jose in the seventh round (200th overall) of the 2010 NHL Draft.
MacDermid sees trade as an opportunity
Joe MacDonald
ESPNBoston.com
BOSTON — When Lane MacDermid learned he was traded Tuesday morning to the Dallas Stars in exchange for veteran forward Jaromir Jagr, he was surprised but accepted the news with a positive attitude.
"I didn't see it coming," MacDermid said. "This could be an opportunity to get some games. I knew it was going to be hard here to get some games in, so it should work out for both parties."
MacDermid, 23, heads to Dallas along with unsigned draft pick Cody Payne and a conditional second-round draft pick in the 2013 NHL Entry Draft in exchange for the future Hall of Famer. Jagr will join the Bruins on Wednesday and will wear his traditional No. 68.
As MacDermid left TD Garden around 3:30 Tuesday afternoon carrying his sticks and with his equipment bag over his shoulder, he joked that he's been telling everyone he was traded straight up for Jagr.
"It's kind of cool. Actually, I grew up watching Jaromir play and he's an amazing player. To be a part of that deal is pretty cool," he said.
MacDermid played a total of three games for the Bruins this season. Because of his contract status, the Bruins would have lost him through waivers if he were assigned to Providence, so MacDermid remained in Boston as a healthy scratch.
"I was happy to be up here," he said. "I wasn't totally expecting to stay up here, so I was happy to be around the club and learn from the guys and coaching staff. It was a good experience."
As far as being traded, he holds no ill feelings toward the Bruins organization.
"I try not to take things too personally," he said. "It's a business and they're trying to do what's best for the club. I totally understand."
Bruins GM Peter Chiarelli spoke with MacDermid after the deal was complete.
"He just said, that's the way the year's been going and he didn't want to lose me on waivers, so he's kept me up," explained MacDermid. "It was tough to get me in, so this will be an opportunity for me to maybe play some games and get some experience with [Dallas]."
MacDermid interview

Edmonton Oilers rookie Nail Yakupov adding defence to his offensive repertoire (Larionov)
Derek Van Diest
Edmonton Sun
EDMONTON – Nail Yakupov admits he's starting to figure it out.
There were high expectations on the Edmonton Oilers most recent first-overall pick coming into the season.
And while Yakupov has shown flashes of brilliance offensively, it's his defensive game that has the coaching staff showing more confidence in him.
"I think the key thing is my teammates, they help me a lot, off the ice and on the ice," said Yakupov. "I'm playing with the captain (Shawn Horcoff) and he talks to me all the time and I'm learning and working hard every day.
"Sometimes I don't have any points but I think the first thing you have to do is work for your team, and I think we have a great chance to make the playoffs this year."
Yakupov scored a goal and added an assist in the Oilers 4-1 victory over the Calgary Flames Monday at Rexall Place. The two teams face each other again Wednesday in Calgary.
However, it was Yakupov's work in his own zone that had head coach Ralph Krueger singing the winger's praises following the contest.
"There are a few things that happen if we go back 11 games and one of them was definitely Nail growing up in such a quick period of time," Krueger said. "He's very responsible without the puck, you can see him making strong decisions, he was the first forward back on multiple occasions (Monday). He plays physical, takes multiple responsibilities defensively. He's been getting smarter with the puck and more patient. He's understanding the difference between simple plays versus opportunity and that's all showing up. We're excited for a kid that age, what he's done here in these two and a half months, it certainly shows us that we have an exciting future with Nail."
A star with the Sarnia Sting, Yakupov's offensive exploits were well documented prior to being selected first overall by the Oilers in last summer's NHL draft.
Yet with plenty of young, offensive talents already in the mix, the Oilers could afford the luxury of introducing the highly-skilled Russian winger to his own zone.
"When I was younger, I would just play offence and not worry too much about defence," Yakupov said. "But this is the best league in the world and you have to play defence, too. How well you play defence will depend on how much you get to play. Horc has helped and everybody on the team has helped me a lot."
Heading into the second half of the home-and-home against Calgary, Yakupov has seven goals and 18 points on the season.
The goal he scored Monday was his first since connecting against the Chicago Blackhawks on Feb. 25.
"It's always nice to score," Yakupov smiled. "I can't remember the last time I scored, a year ago probably? I'm excited about it and excited to be able to get the two points."
Playing with Horcoff and Ryan Jones has proven a good fit for Yakupov. As the team's third line, the unit's main responsibility is to keep the puck out of their own net. What they contribute offensively is a bonus. On Monday they scored twice in the win against the Flames.
Yakupov is picking up a lot playing with two veterans.
"That's the progression of players coming into the league, whether they're 18, 19, 27 there's always a little bit of time to adapt," said Jones. "But he's an unbelievable hockey player with a ton of skill and a world-class shot."
Yakupov's work-ethic has also not gone unnoticed. The 19-year-old is constantly striving to get better, whether it would be on the ice or in the gym.
"He's a guy that I think when he first came here, it took him a while to get comfortable, especially when it came to the communication, but he's a highly intelligent player," Horcoff said. "It took him a while to realize that he has to play both ends of the ice if he wants to play more. He's starting to realized that now and so, with that realization has come some willingness to learn. Plus we're really trying to hold each other accountable when it comes to turnovers and dangerous plays. With that we're going to get results. For Yak it's a process. He's such a young player, he's going to take some time, but he's on the right track."
Yakupov's goal vs Calgary (Larionov)

Seguin scores in Bruins win over Ottawa

Apr 3
Lane MacDermid scores first NHL goal

MacDermid Postgame

Nail Yakupov's first multigoal game (Larionov)

From high school hockey to the big time
Scott Stewart
InsideHalton.com
NORTH OAKVILLE – Oakville native and former Blade Kellan Lain has taken the next step in his hockey career.
On March 16, Lain signed a professional contract with the National Hockey League's Vancouver Canucks and was assigned to the team's American Hockey League affiliate in Chicago.
Lain is the second ex-Blade to play for the Wolves in recent weeks, as Steve Pinizzotto had a conditioning stint in the Windy City before making his pro debut with the Canucks in mid-March.
The decision sign with the Canucks was an easy one for the former Blakelock standout.
"They are a great organization with a tradition of winning," he said. "They have been interested in me for a couple of years and felt I would be a great fit within their organization.
"Talking with the management, I felt very wanted and they believed in me as a player," he added. "They have a great development program and provide everything needed to improve and continue getting better."
Lain's road to the pros differs from most.
Instead of playing Rep hockey, Lain suited up his high school team, the T.A. Blakelock Tigers.
From there, he moved up to the Oakville Blades and later earned a scholarship to attend Lake Superior State University in Michigan.
The move to the collegiate level almost didn't happen.
During a playoff game in 2009, Lain suffered a horrific accident. His wrist was cut by a skate blade and he was out of hockey for almost a year. The injury delayed his arrival at LSSU for a year.
The 6'6" Lain spent the last three seasons at Lake Superior State University, where he recorded 39 points (21 goals, 18 assists) in 108 games.
"I loved LSSU," he said. "It was the best three years of my life. I developed life long friendships and have memories that will last a lifetime.
"We had a great coaching staff and gave me every opportunity to grow and we had good teams each year and got a chance to play with a lot of good players," Lain added. "It was like having a second family. We were all so close and did everything together.
Lain put in just as much work in the classroom as he did on the ice, and will get his degree early.
"I am on course to graduate this year," he said. "Receiving my degree in three years and having the opportunity to sign was a perfect situation. My education was very important to me so having my degree provides insurance for the future after hockey."
Lain chose the Canucks over other Western Conference teams like the Ducks, Coyotes and Red Wings, who were all interested in acquiring his services.
Chris Crane interview

Agozzino pregame interview

Agozzino scores 18th in Lake Erie win
Goldobin Among Rookie Finalists (Larionov)
Apr 4
Sharks sign Matt Irwin to extension
Kevin Kurz
CSNBayArea.com
SAN JOSE – The Sharks signed defenseman Matt Irwin to a two-year contract extension, the team announced on Wednesday.
Irwin will receive $900,000 in the first year of the deal in 2013-14, and $1.1 million in 2014-15, his agent told CSNCalifornia.com.
"We're very excited to have Matt Irwin for the next two years. We think he has a bright future," Doug Wilson told CSNCalifornia.com.
"It's exciting. I'm excited to stay here and continue winning with this team," Irwin said.
Irwin, 25, was due to become an unrestricted free agent this summer.
"I wanted to be a Shark," he said. "They did a great job over the years developing me as a player. It started in Worcester there for two and a half years. I felt like I wanted to stay here, and owed it to them with their loyalty and bringing me up and giving me an opportunity, so I'm excited to be a Shark."
The deal came together quickly.
"I honestly didn't pay too much attention to it," Irwin said. "I was still concerned about playing well and establishing myself that I could play at this level, and let that discussion happen between my agent and Doug. I'm grateful and happy to be here."
Irwin started the season on the opening night roster, as the injuries to Brent Burns and Jason Demers left the team thin on the blue line. He was reassigned in early February, but returned on Feb. 28 and has been with the club ever since.
Now, he's here to stay for at least two more years.
"He's stepped in right from Day 1 in training camp," Todd McLellan said. "We forget how rushed it was, how little time we had and how little time he had to get accustomed to the NHL pace. He did a tremendous job and a result he's earned himself an extension which is deserved."
In 26 games, Irwin has five goals and four assists for nine points and four penalty minutes. The six-foot-two-inch British Columbia native was originally signed by the Sharks as a free agent on March 23, 2010.
Matt Irwin Interview

Galchenyuk's goal vs Winnipeg (Larionov)

Galchenyuk Postgame Interview (Larionov)

Seguin to center Jagr in first game post-trade
Goldobin Runner Up for Top Rookie (Larionov)
The Observer
Sarnia Sting forward Nikolay Goldobin finished as the runner-up to Erie's Connor McDavid for the OHL Rookie of the Year award Thursday.
McDavid won in a landslide, taking 85 points out of a maximum 95 in voting by the league's general managers, while Goldobin came second with 29 points. Brampton's Blake Clarke was third with 22 points.
Goldobin led all rookies with 30 goals and 68 points this season, his first in Sarnia after being drafted 36th overall in the 2012 CHL Import Draft. McDavid, the first overall pick in the 2012 OHL Priority Selection had 66 points in 63 games as the league's youngest player.
Goldobin was also named to the second All-Rookie Team at right wing, finishing with 65 points in voting, four behind Kingston's Spencer Watson, who was named to the first team.
Apr 5
MacDermid's goal vs Anaheim

Neither Lane MacDermid nor dad Paul knew about strange date that now bonds their careers
Kevin Sherrington
DallasNews.com
ANAHEIM, Calif. – Even Lane MacDermid's dad didn't know about the odd stat. When the Stars rookie scored Wednesday against Anaheim, his first NHL goal came 31 years to the day after his dad scored his first goal in the NHL.
Paul MacDermid was a winger for the Hartford Whalers and scored his first goal on April 3, 1982.
"I called my parents, and my mom had to research it herself," MacDermid said. "Neither had any idea that's what happened. It's pretty cool."
Paul MacDermid had 116 goals and 142 assists (258 points) in 690 career games, and Lane would love to produce similar numbers in his career.
"I'm glad to play in the NHL again, it feels good," said MacDermid, who played mostly in the AHL but had eight NHL games with Boston before being traded to the Stars on Tuesday. "I just want to do my best and show what I can do at this level."
Amerks Sign Forward Justin Kea to ATO
Press Release
(Rochester, NY)… The Rochester Americans announced today that the team has signed forward Justin Kea to an Amateur Tryout.
Kea, 19, recently completed his junior hockey season with the Saginaw Spirit of the Ontario Hockey League, where he recorded 48 points (22+26) and 102 penalty minutes in 68 games. He also appeared in four playoff games. In three seasons with Saginaw, Kea, a native of Woodville, Ontario, has collected 68 points (29+39) and 227 penalty minutes in 195 games. The 6-foot-4, 206-pound forward was selected by the Buffalo Sabres in the third round (73rd overall) of the 2012 NHL Entry Draft.
Stephens could go in first round of OHL Draft
Mike Davies
Peterborough Examiner
It's been a long road through ups and downs in their minor hockey careers but Peterborough natives Mitchell Stephens and Jordan MacLean are about to reap the rewards.
The families of the two 15-year-old hockey players made sacrifices, endured criticism and overcame obstacles to place the boys in the Toronto Marlboros GTHL program. On Saturday, they are expecting to be selected in the OHL draft with Stephens, a five-foot-11, 170 pound offensive forward, likely to be a first-round pick. Some sources have told The Examiner he could go as high as eighth to the Saginaw Spirit.
He recorded 44 goals and 40 assists for 84 points in 58 games. It's not as clear when MacLean might be selected. The six-foot, 165-pound defensive defenceman had a goal and 12 assists in 52 games.
In minor peewee, Stephens and his parents Lee and Heather, made the decision to leave the Peterborough Minor Hockey Council's AAA Petes program. The PMHC did not stand in his way and for two years the family commuted to games in Toronto.
In his third year, other OMHA teams tried to block his release to the GTHL leading to a decision for Lee to move to Toronto and enrol Mitchell at Peak Academy to comply with Hockey Canada residency rules. When MacLean, son of Dan and Jeanette MacLean, decided to join Stephens two years later, he was also blocked from leaving so his mother got a transfer with her provincial government job to Toronto. He too enrolled at Peak.
The Petes team was struggling and both felt they needed a change of scenery.
"It was a better opportunity," said Mitchell Stephens, who knew the Marlies coaches and some players from a summer hockey team he joined.
"The team wasn't strong," MacLean said. "I thought I'd have a better opportunity and it would be a better atmosphere going to Toronto."
Jeanette said the family was told they wouldn't be given a release so moving was the only option.
"Peterborough struggles to be competitive," she said. "It certainly gave the boys an opportunity to play with kids of higher calibre, more competitive hockey and different coaching."
Lee said minor peewee may seem like a young age to move a child for hockey but he felt it was necessary.
"As players get older it becomes more and more difficult for them to move from their centres," he said. "For exposure and opportunity the GTHL is recognized as one of the best leagues in the world. The Toronto Marlies have always, historically, produced high-end players."
Stephens believes players should have the freedom to pursue opportunities wherever they wish. He says Mitchell won two OHF championships and four GTHL titles in Toronto and a silver medal at this year's OHL Cup Showcase Tournament, where Stephens was his team's MVP in three of seven games.
"If we hadn't made that decision we, perhaps, wouldn't be where we are today," Lee said.
Both players said it was tough to leave home and friends to go to a new city. MacLean admits there were times he wondered if he did the right thing because he missed friends and home.
"You realize now the sacrifice has paid off," MacLean said. "My mom made a huge sacrifice. I don't think I would have been able to do it if she hadn't moved with me."
Mitchell admits the pressure of it being their draft year affected he and his teammates early in the season. It took a while to put the distraction aside but when they won the Silver Stick Tournament in Whitby it was a turning point.
"We adjusted to all the hype about the draft and the scouts," he said. "The boys rallied together."
Stephens says he's trying to stay level-headed about the draft.
"I'm trying to keep an open mindset and enjoy the experience. Being drafted is something I've always dreamed about. Whether I go eighth, ninth, 10th or in the second round, it's an honour and a special thing," said Stephens.
Having grown up in a city with an OHL team, both were aware from a young age what it was all about.
"Going to games when I was young you looked up to players like that," Stephens said. "You wanted to be there."
"Even more so now," MacLean said. "We know friends who we played with before who are now playing in the OHL. You've been going to these games since you were little and now you're looking at friends you sat beside on the bench who are playing in the exact same spot you were watching. It's a great opportunity."
Otters Take Saban
Press Release
The Erie Otters of the Ontario Hockey League announced this morning that they have selected Toronto Red Wings Defensemen Jesse Saban with their 2ndround pick in the 2013 OHL Priority Selection Draft being held today via the Internet and conference call, from the Springhill Suites Hotel, located at Interchange Rd, in Erie PA.
Saban, a 6-foot-3 and 205 pound defensemen from Lindsay, Ontario, registered 4 goals and 12 assists for 16 points in 32 games during the 2012-13 season.
"Jesse is a well rounded defender that can punish opponents with his physical tools while supplying some offense," said Otters Assistant General Manager Dave Brown.
Spitfires Pick Moore
Ricardo Veneza
Blackburn News
The Winsdor Spitfires top pick in the 2013 OHL Priority Selection is from across the Detroit River
Centre Ryan Moore from Troy, Michigan was grabbed with the 35th overall pick in the draft. Moore finished with 24 goals and 24 assists along with 54 penalty minutes in 36 games in 2012-2013.
Thunder enters postseason riding goalie's hot hand
Scott Linesburgh
Recordnet.com
STOCKTON – There will be no need for introductions when the Stockton Thunder and Las Vegas Wranglers meet in the first round of the ECHL National Conference playoffs.
The teams already have played eight times, the coaches are best friends and three Las Vegas players were once members of the Thunder. Familiarity is likely to breed competitiveness when the best-of-seven series begins 7:30 p.m. today at Stockton Arena.
The fourth-seeded Thunder (37-26-9) enters the postseason having won four in a row and seven of 11, and is confident it has the roster, led by red-hot goalie Olivier Roy, to make a run deep in the playoffs. First up is No. 5 Las Vegas (37-30-5), and all indications are that this will be a tight series. The Thunder and Wranglers split the eight games, and all but one were decided by one goal.
"It just seems like it's going to be a good matchup, and a close one," Thunder coach Matt Thomas said. "It's going to be a tough series for us to win, for sure."
Thomas and Wranglers coach Ryan Mougenel have known each other for more than a decade. Thomas was an assistant coach and Mougenel was a player with the Atlantic City Boardwalk Bullies when they won the Kelly Cup in 2002. Mougenel was an assistant to Thomas for four seasons in Fresno and Stockton before becoming head coach of the Wranglers in 2009.
It's the first time they will meet in the playoffs.
"I don't think it's very fun because I don't want to lose to him," Thomas said with a smile. "We know it's part of the business. It will be exciting for both of us to go after one another and try to see who comes out on top. Put it this way – I'm working extra hard."
Mougenel, who led the Wranglers to the Kelly Cup finals last season, also has mixed feelings.
"It's unfortunate that one of us has to lose," Mougenel said. "We're obviously close and our families are very close, but at the end of the day both want to win."
Forwards Judd Blackwater, Geoff Paukovich and Adam Huxley played for Stockton before going to Las Vegas. Huxley was a fan favorite during his Thunder tenure.
"There are players who used to be here, and their coach used to coach here. It's going to be an exciting series," Thunder captain Garet Hunt said.
The Thunder's late-season good fortune can be directly tied to the return of Roy in March from his American Hockey League assignment. He has won four of five games, allowing just six goals during that span. Roy credits the defense in front of him, but his teammates are very confident with him in the net.
"He's been playing excellent. Our defense has been really stepping up and shutting guys down, stopping a lot of shots, protecting the house more," Hunt said. "We've really been taking a lot of pride in that in the last couple of weeks going into playoffs."
Roy is backed up by Tyler Bunz, who had a solid season. The Wranglers counter at goalie with veteran Joe Fallon and Mitch O'Keefe, and have a balanced offense led by Andrew Sarauer (21 goals, 41 assists). Center Harrison Reed led Stockton in scoring (21 goals and 24 assists in 45 games).
Galchenyuk shows strengths after shaking goal drought (Larionov)
CTV Montreal
MONTREAL—Alex Galchenyuk's first season with the Montreal Canadiens was filled with such high expectations that any struggles were certain to be scrutinized. An 18-game goalless drought certainly wasn't helping.
But the Habs teenager took advantage of a rare start at his natural center position on Thursday to score his fourth goal of the season in a 4-1 victory over the Winnipeg Jets.
"Even a couple games back I felt I was getting close, I have the chances (and) maybe I missed the net (or) hit the post, but I knew the time would come," the 19-year-old Galchenyuk said. "I don't mind (playing) wing, I don't mind (playing) center."
Canadiens coach Michel Therrien indicated his decision to play Galchenyuk at left wing had all been part of the organization's long-term thinking.
"We all know Alex is a center man, we have to work with him. It's a learning process for him. We want to give him a lot of experience this year so for the future it is a benefit for him for his career," Therrien said. "Because we lost Tomas (Plekanec) we gave him a chance to play center and he did really well, managing the puck well, was solid both sides of the ice."
The coaching staff's work with the Russian-American has helped Galchenyuk make up for his lack of offense with good defense and a +8 rating. So while fellow rookie Brendan Gallagher has seen his name thrown into the Calder Trophy race as a rookie-of-the-year candidate, Galchenyuk has kept working to improve on his 17 points this season.
"Those young players are going to have ups and downs and you have to be sure you are working with their confidence," Therrien said.
Galchenyuk also credited his father, Alexander, with helping him get back-to-basics.
"He told me to focus on the little things, play a simple game," Galchenyuk said.
Galchenyuk may be moving back to left wing come Saturday's game against the Boston Bruins as Therrien said Plekanec could return.
Apr 6
Galchenyuk's goal vs Boston (Larionov)

Mitchell Stephens drafted eighth overall by Saginaw Spirit
Mike Davies
Peterborough Examiner
Mitchell Stephens feels he's landed in the perfect spot to start his OHL career.
The Peterborough native was selected eighth overall by the Saginaw Spirit in the first round of the OHL draft on Saturday. He was one of two local players selected as Logan DeNoble went to his hometown Petes in the 13th-round.
Stephens, a skilled offensive forward, had 44 goals and 84 points in 58 games for the OHL Cup Showcase Tournament silver medalist Toronto Marlboros.
"It's a great honour to be selected by Saginaw," said Stephens, who watched the draft unfold at home on the internet. "They have a great coach, a great organization and great players. It's a special moment for me and my family to be drafted there."
Stephens is particularly excited about the opportunity to play for Spirit coach Greg Gilbert. The former NHL player and coach was the OHL coach of the year last season
"Greg Gilbert is a great coach," he said. "He's turned players like Jimmy Lodge and Eric Locke into NHL draft picks and high-end players in the league. The organization is very well respected. They're going to be a great team next year with great players. Hopefully, we'll make a run for an OHL championship."
Stephens also felt it was a team which offered him a good opportunity to play right away.
"The way I can play I think I can fit into their top six forwards but I can't take anything for granted or have a sense of entitlement going to camp," he said. "I have to keep working hard in the summer and, hopefully, get there."
A lot of speculation had Stephens going to Saginaw but he said until the draft actually took place, he couldn't be sure. He says he didn't sleep Friday night.
"Nothing was set in stone. I just had to try to keep a level head about everything and not take anything for granted," he said. "It wasn't too much of a shock but it was still a special moment."
While this is just another step in his evolution as a hockey player, Stephens says it's a culmination of one dream.
"Ever since I was a kid watching the Petes play the OHL is somewhere I wanted to be," he said, adding it was special for another reason.
"Seeing all the friends I know get drafted is special," he said. "I've congratulating the guys and they've been congratulating me. All the support from everyone is awesome."
Sandlak with goal and assist in playoff win
Ryan Rupert with goal and assist in playoff win
Colorado Eagles bested by Besko, Steelheads
Apr 7
Besko, Steelheads take a 3-1 series lead
more
THE RIG 28 week ending Mar 31st
on March 25th, 2013 by Pulver Sports
Mar 25
Jesse Blacker Recalled From Marlies

Dave Nonis, Senior Vice-President and General Manager of the Toronto Maple Leafs, announced Monday that the hockey club has recalled defenceman Jesse Blacker from the Toronto Marlies of the American Hockey League.
Blacker, 21, has played 53 games for the Marlies this season collecting 10 points on three goals and seven assists, along with 31 minutes in penalties. The 6-2, 190-pound defenceman has yet to play his first NHL game and has been assigned sweater #49. He was originally Toronto's third choice, selected 58th overall in the 2009 Entry Draft.
Leafs call up Marlies defenceman Blacker
Terry Koshan
Toronto Sun
BOSTON – Jesse Blacker got the call. Now the 21-year-old defenceman has to wait for a tap on the shoulder.
Dripping sweat and smiling ear to ear as he took off his hockey equipment on Monday morning at the TD Garden, Blacker looked like a guy who could use a rest, even if he didn't want one.
Blacker was summoned from the AHL late Sunday night and made his way to Beantown from Chicago, arriving on Monday morning at 9:30 a.m. after playing three games in three nights with the Marlies.
So it was not a surprise Blacker was a healthy scratch for Monday's game against the Bruins, but the Toronto native was a step closer to making his NHL debut.
"It's something I have been hoping/waiting for," Blacker said. "Hopefully I get in a game, but if not, I will take the experience and run with it. Just learn from some of the guys here. I have an idea of what it takes, I have been around for a while, but just take what I can from it and take the experience on the ice."
With John-Michael Liles nursing a sprained ankle that he suffered on Saturday night versus Boston, Leafs coach Randy Carlyle reinserted Mike Kostka into the lineup. Kostka was a revelation coming out of the short training camp and started strong, but faded a bit and was a healthy scratch for the past five games.
The Leafs had to bring a defenceman up, because Carlyle didn't want to be stuck if one of them was hurt during the morning skate or became sick.
"We think Kostka has earned the opportunity to go back in," Carlyle said. "We just felt in the last time around with Kostka it was a numbers game and things weren't going quite the way we had liked them to. With the injury to Liles, Kostka is a natural fit. Blacker has been a soldier for our American Hockey League team."
In 53 games with the Marlies, Blacker, the 58th pick overall by the Leafs in 2009, had three goals and seven assists and was minus-2. An offensive defenceman with Owen Sound and Windsor in the Ontario Hockey League, Blacker has developed his defensive skills in his 11/2 seasons as a full-time AHLer.
Dallas Eakins came to Blacker after the Marlies' game in Peoria, Ill., on Sunday night and told him he was going to the big club. An anxious Blacker got approximately 31/2 hours' sleep and then hoped a plane to Boston.
"Dallas let me know, and he was extremely supportive and I was extremely thankful," Blacker said. "One of the biggest things he said to me (earlier this season), was what position did I play, and I said I play defence.
"It was just more about concentrating on my own end. The time I get the points are when I worry about defence first and let the offence roll with it. It's just been about improving my all-around game."
Loktionov scores vs Senators (Larionov)

Mar 26
Jokinen's Goal vs Carolina

Chris Festarini makes 40 saves to lead IceDogs to 4-2 win over Generals
Mar 27
Mike Cammalleri scores two as Calgary Flames beat Avalanche
Cammalleri's Goals

Seguin's Goal vs Montreal

Schofield and Leggio team up to lift Rochester to 1-0 win over Syracuse Crunch
Mar 28
Yakupov sets up Horcoff (Larionov)

Mar 29
Loktionov's goal vs Tampa Bay (Larionov)

Charles Linglet Lugano Highlights

Mar 30
Jokinen's goal vs Carolina

Murphy, Leivo, Iafrate eliminate Guelph
Clapperton scores winner as Armada advance to second round
Bolduc posts three points in Portland win
Mar 31
more
THE RIG 28 week ending Mar 24th
on March 19th, 2013 by Pulver Sports
Mar 18
Lain figures Canucks right up his alley
Elliott Pap
Vancouver Sun
As a U.S. college free agent, Kellan Lain could have signed anywhere. He spoke to 10 teams, narrowed it down to four, and then chose the Vancouver Canucks.
"It was a tough choice, picking an NHL team is never easy when more than one wants you," said Lain, a 6-6, 220-pound, left-shot centreman from Oakville, Ont. "Growing up in Canada, it's the same story: we all want to play in the NHL. Now that it's a possibility, it's really exciting, especially coming to an organization like Vancouver. It's a special city and they have a great team."
Lain, 23, played the last three seasons with the Lake Superior State Lakers of the Central Collegiate Hockey Association. He had eight goals, eight assists and 111 penalty minutes during the 2012-13 campaign. The Canucks intend to assign him to the American Hockey League's Chicago Wolves. His signing was announced Saturday.
Lain's contract is for one year only, a requirement of the collective bargaining agreement based on his age. He received a $92,500 signing bonus and will be paid a $70,000 salary (prorated) in the AHL and $832,500 (pro-rated) if he is called up to the Canucks. He will then become a restricted free agent in the summer, assuming the Canucks qualify him.
"We hope he likes us," said Canuck assistant GM Lorne Henning when asked about the prospect of keeping Lain beyond the rest of the season.
Lain is projected to be a bottom-six forward at the NHL level. He is good on the draw and won 56 per cent of faceoffs this past season for the Lakers. The Canucks are desperate for a top left-handed faceoff man since Manny Malhotra (vision) was shut down.
"I'm pretty much described as a big centreman who can skate, is good in his own end, is good on faceoffs, can kill penalties and chip in once in a while offensively," Lain said. "So that's pretty much how I'm described and I agree. I also like to play feisty. I've played feisty my whole life."
According to Laurence Gilman, the Canucks' other assistant GM, Lain had been heavily scouted by Canuck senior adviser Stan Smyl, whose duties include scouring the U.S. colleges for late bloomers.
"He's been on Stan's radar for quite some time and we have followed him very, very closely," Gilman said. "He has a good blend of both speed and skill. We're going to bring him to Vancouver, as we usually do with new players, to get him acclimated to our organization and he will then join Chicago sometime in the mid-week."
Plans called for Lain to fly to Vancouver on Sunday and watch the Canucks play Monday against Minnesota and Tuesday against St. Louis before he heads off to the Wolves. The Canucks top U.S. college free agent to date is defenceman Chris Tanev, who was signed by the Mike Gillis regime three years ago. Lain is four months older than Tanev and played against him "a little bit" in greater Toronto minor hockey but doesn't know him personally.
Lain leaves Lake Superior State after three seasons, signs with Vancouver
USCHO Staff Report
USCHO.com
Lake Superior State junior forward Kellan Lain has signed a three-year entry-level contract with the Vancouver Canucks, giving up his senior season with the Lakers.
In his three seasons with Lake Superior State, Lain compiled 21 goals and 18 assists for 39 points and 210 penalty minutes in 108 games.
Lain racked up 111 PIMs this past season in 32 games, something LSSU coach Jim Roque discussed on the Canucks' official website.
"When you get a five [-minute major] in our league, you also get a 10 [-minute misconduct] with it, too, and [Lain] had a couple check from behinds and a couple hit to the heads," said Roque. "To be honest, our league kind of ran him out of college hockey as every time he hit a guy, it was a penalty because he is so big (6-foot-6, 222 pounds)."
Lain took college classes while playing juniors in his hometown of Oakville, Ont., which he was able to transfer to Lake Superior State and will graduate with a degree in marketing this spring after only three years at the school.
"I didn't want to leave school without my degree, so it's really nice to sign an NHL contract and obtain my degree at the same time," Lain added.
Kellen Lain meets the media

Murphy, Rangers brace for Storm
Josh Brown
TheRecord.com
SAULT STE. MARIE — It all happened so fast.
The Kitchener Rangers were up 3-0 in their best-of-seven OHL western conference final against the favoured Windsor Spitfires and just one win away from cracking the championship.
Then, in what seemed like an instant, it all came crashing down. The Spitfires rattled off four consecutive victories and never lost another game on their way to winning the Memorial Cup in 2010.
"We were so close," said Rangers' defenceman Ryan Murphy. "It was an amazing experience."
So too was the following year when, in Murphy's eyes, the Rangers were even more talented but were sent packing in seven games in the opening round by the Plymouth Whalers.
Last year, Kitchener got its revenge by returning the favour to the Whalers in a thrilling seventh game in the west semifinals.
From hotshot rookie to team captain. It has been memorable ride in a Rangers' uniform for the Aurora native. But the story isn't over yet. Murphy – and potentially 10 others – has one last playoff run left before leaving town.
"It's now or never for us," said the 19-year-old rearguard. "If we're going to go out, we mind as well go out swinging."
Kitchener wrapped up regular season play with a 6-4 loss to the Sault Ste. Marie Greyhounds Saturday at the Essar Centre. With fourth spot in the OHL's western conference already locked up, the club opted to sit starting goalie John Gibson and star forwards Matt Puempel, Tobias Rieder and Radek Faksa.
Murphy played sparingly while other top guns saw limited action in what was a must-win game for the Greyhounds, who secured sixth spot in the west with the victory.
And so, the Rangers' 50th anniversary regular season comes to an end.
The 39-20-1-8 record, good for 87 points, is the second highest total in general manager and head coach Steve Spott's five-year regime. But with 10 players drafted or signed by NHL teams, the bar was set higher.
"I think it was an up and down season," said Murphy, who is expected to join the Carolina Hurricanes, or their farm team, this fall. "We had a lot of injuries and call ups. We never really got to play with our full lineup throughout the year which is critical. It cost us games in the end."
But there is a sense that the best is yet to come, as the club prepares to host the Guelph Storm in the opening round of the playoffs Friday at the Aud.
"There were a lot of expectations," said Murphy. 'But I don't think we've let anyone down yet. It's playoff time and we still have a lot to prove and we're ready to go."
And the captain believes. He says the team isn't scared of OHL top dogs the London Knights or other power house clubs such as the Owen Sound Attack or the Plymouth Whalers.
"It all comes down to the will to win," he said.
The final chapter in the captain's junior hockey journey begins Friday at the Aud at 7:30 p.m.. Game 2 runs Sunday, also on East Avenue, at 7 p.m. Games 3 and 4 are at the Sleeman Centre in Guelph Tuesday and Thursday.
Galchenyuk speaks after practice

Mar 19
Irwin Goal at ANA 3/18

Postgame 3/18: Matt Irwin

FalconsTV With Thomas Larkin

Hockey-tonk heaven: B-R grad skates with Tyler Seguin at the TD Garden
Rebecca Hyman
Wicked Local Raynham
Raynham —For a passionate New England sports fan, it doesn't get much better than skating in the Garden with Tyler Seguin.
Unless, of course, the Boston Bruins phenom skates up behind you while your cousin is snapping your picture and does John Travolta's signature move from "Saturday Night Fever" in what is arguably one of the greatest photo bombs of all time.
"It encapsulates everything. We're at the Garden. I'm being a silly Bruins fan. And there's Tyler Seguin getting in on the silliness," said Paula Damigella, a 2006 Bridgewater-Raynham Regional High School graduate who grew up in Bridgewater and has been a diehard, lifelong Bears fan.
Paula, 24, who won the "AT&T Tyler Seguin: Your House or Mine" photo sweepstakes, got to bring 9 of her friends and relatives to the TD Garden for a skating party with the 21-year-old Bruins winger on Wednesday, March 6.
Paula, who hails from a large, close-knit Italian family, brought mostly cousins, as well as another dozen or so family members to sit on the bench and enjoy the event, including her mom Bonnie, dad Paul, little sister Allie, 12, and brother Nick, 14.
It was a dream come true for Paula, who has an outgoing, bubbly personality and loved every minute of the big day, her mom said.
"She was just beaming and skating around in awe," Bonnie said.
And Seguin couldn't have been more welcoming and friendly. By the end of the event, Bonnie had adopted him as an honorary Damigella.
"He's a really sweet guy. He's down to earth and a lot of fun," Paula said.
Paula's friend Jessica Sares doesn't know how to skate, so Seguin suggested he and Paula guide her around the ice.
"Jessica was so thrilled. She said, 'I'll never wash my hand again'," Bonnie said.
At another point, Bonnie asked Seguin if he'd race across the ice with the cousins, who range in age from 16 to 24. Not only did he agree, he graciously let Paula's cousin Michael win, Paula said.
Paula, an Emerson College graduate who works in the school's IT department, can't remember a time when she wasn't a huge sports fan. She's up and down throughout a game, cheering, wincing, yelling at the television.
"It's visceral. It's the tradition. It's this massive stock of memories. I'll get flashbacks to watching games with my dad as a little girl," Paula said.
She's addicted to "Bleacher report" and eats up sports books. She loves Boston, the sights, the smell, the energy. Fenway, the Garden. The culture, the history. The storied teams.
And then there's the pajamas.
Last year she was heading out to watch game 7 of the Stanley Cup playoffs in a sports bar with some friends. She was convinced her Bruins pajama pants were lucky, but it didn't seem like an appropriate place to wear them, so she stuffed them in her purse.
But when the game got tense, she couldn't stand it anymore and ducked into a bathroom to put the pajamas on. The Bears lost anyway. Did she conclude it was just an irrational superstition and she couldn't possibly have been responsible for the devastating loss?
Not exactly. In her head, she knows that. But her heart is a different matter.
"I should have been wearing them from the start," Paula said.
That was right around the time Paula found out she'd won the contest. But for a while it seemed like the big day would never come.
First Seguin injured himself during the playoffs.
Then, they melted the ice at the Garden at the end of the season.
Finally, there was that little matter of the NHL lockout.
The contest organizers asked if Paula wanted to hold the event somewhere else. But she stuck to her guns. She might never get another chance to skate at the Garden, she thought.
You don't give up on a dream just because it takes a while to achieve. If being a Boston sports fan has taught her anything, it's taught her that.
The evening even included dinner with Seguin for Paula and all her guests at the Garden.
They asked him if he thinks the 2013 team is as good as the champion 2011 team.
"Tyler said 'No, we're better. We love each other. We're like brothers'," Paula said.
Then her cousins asked if he'd flash them a signal the next time he scored a goal.
"What would I do?" he asked.
"One of my cousins said, 'Blow us a kiss'," Paula recalled with a groan.
"Tyler laughed and said, 'I'm not doing that'," Paula said.
Sure enough, the next night he scored a goal. No signal, but the camera went off him for a moment, so they'll never know for sure.
"When he scored, my phone exploded. My cousins were all texting me, 'We're good luck!'" Paula said.
Of course, that's a big responsibility.
"This year, it seems like if I don't watch, they lose. It's really stressful. Sometimes, I have a previous engagement," Paula said.
Battalion reflect; gear up for Sudbury series
Mark Pare
BayToday.ca
The 2012-13 OHL regular season came to a close on Sunday and to that, a season of reflection for the Brampton Battalion, who are on the move to North Bay next season.
On the ice, the Troops finished the year in fourth place in the Eastern Conference with a 34-25-3-6 record.
"I thought we did okay," said Battalion head coach/GM Stan Butler, "Always as a team, you want to strive to do better but I think given the youth of our team, I think we're a pretty young team, I thought we had a pretty good season."
There's still a playoff run to go, but that didn't stop fans in Brampton, who showed their support on the weekend against Peterborough with a reported 3,432 in attendance for the season finale.
"It was special," said Battalion captain Barclay Goodrow, "There's been fans that have been here since day one and for their team to be leaving, it's definitely tough for them, but to go out the way we did, especially in front of so many people and especially it being a big game for Peterborough as well, they had a lot of fans there, it wasn't just an every day game for us, we wanted to win it for those fans and we wanted to thank them for all the support they've given us the past 15 years so it was definitely a good way to go out and now we have some momentum going into the playoffs, which is good."
Goodrow scored a career-high 38 goals this season and although he says it would have been nice to hit the 40-goal plateau, he was happy with how his season went.
"In the past, I would have a few highs and a few lows throughout the season," he said, "But I feel like this year, I kept the lows pretty short and the highs were pretty high so I was pretty happy with the way my season went and definitely with the team finishing fourth, I consider it a good year for us."
Goodrow's play this season on a team that finished 19th in the OHL in goals scored (193) was praised by Butler, as well as the play of some key defensive contributors.
"I think Barclay Goodrow had an extremely good season," said Butler, "When you're one of the lowest scoring teams in the league and a guy can get 38 goals for your team. I don't think we had another 20-goal scorer on our team so from that perspective, I think he had a great year. I think Zach Bell was very strong on defense, did a good job and I think (Matej) Machovsky in net, gave us a good chance to win every day."
Machovsky missed a bit of time this season when he represented the Czech Republic at the World Junior Championships in Russia, but finished the season with a 25-19-4 record, a 2.52 goals against and a 0.910 save percentage with three shutouts. Butler says his goaltender has been good from the very beginning.
"As a 17-year old, he was the first team All-Rookie goalie in the league and he's just carried on from that," he said, "(Machovsky)'s numbers over his three years here are very good so he's done a good job and I think before he left (for the World Juniors), he had confidence and when he came back, he still had confidence. He's that type of kid."
The fourth place finish means a first round playoff series with the fifth place Sudbury Wolves (29-27-5-7) for the second consecutive year. The Troops swept the Wolves last year and won the season series this year, taking five of the eight contests and taking 11 of a possible 16 points in the process.
"Ever since the deadline, we've gone unbeaten against them but they'll definitely still remember what we did to them last year in the playoffs," said Goodrow, "I think they'll have that in the back of their minds and I'm sure they want to get retribution but we just have to stick to our game plan, as coach says all year, we're a team that can be really successful when we follow the game plan but won't be when we don't and that's when things start to get hard for us so if we stay focused at it, one game at a time, we'll go from there."
Butler says the game's this year against Sudbury have been "pretty well flip a coin", with six of the eight decided by two goals or less and both teams winning a shootout each.
"Even though we actually beat them four straight in the playoffs (last year), the games were extremely close," said Butler, "They've got a better goalie this year, they brought in (Franky) Palazzese from Kitchener. I think the teams are pretty even and the one great thing about the fans of North Bay is to have any support, extra support in Sudbury from our fans from next year would be a great advantage for us."
Goodrow says the team is excited to get the playoffs started.
"It's the part you play for all season," he said, "Especially in Sudbury this time around, hopefully we'll have some Battalion fans there from North Bay and that should be a good atmosphere for us."
Mar 21
Thomas Larkin scores first pro goal
Fran Sypek
The Republican
SPRINGFIELD – Cocquio-Trevisago, Italy,
isn't exactly a
hotbed for hockey.
But it has produced at least one professional and the Springfield Falcons are glad he's on their side.
Defenseman Thomas Larkin scored his first American Hockey League goal to spark a two-goal first period and the Falcons ended a six-game winless skein with a 2-0 victory over the Manchester Monarchs Wednesday night.
The win before 2,588 at the MassMutual Center, was the Falcons' first since March 3 when they blanked the Worcester Sharks 2-0 on home ice.
Curtis McElhinney, who posted the shutout against Worcester, did it again against the Monarchs. He made 24 saves for his league-leading ninth shutout.
"He just stops everything," Larkin said.
The nine shutouts are both single-season franchise and Springfield hockey history records. McElhinney passed both the Falcons' Manny Legace and the Indians' Marcel Paille.
"He's been a rock," coach Brad Larsen said. "He allows us to play with confidence."
The Falcons may have gone winless in their previous six, but thanks to hockey math, they did not go pointless. They earned two points because one loss came in overtime and another in a shootout.
But there's no substitute for a regulation win, especially for a team trying to maintain a comfortable first-place lead, which swelled to 11 points over the idle Connecticut Whale.
Four of those six setbacks were by one goal. The players were confident they would turn things around, even with a thin lineup ravaged by injuries and call-ups.
"We've got veterans who know losing is unacceptable," Larsen said. "We had a good pace and I loved our forechecking. We had jump."
Thanks to organizational depth, newcomers have become a factor for the crucial stretch run. Players like Larkin (college), Trent Vogelhuber, Nathan Moon, Will Weber, (ECHL) Spencer
Machacek,, Matthew Ford (trades) and Alex Aleardi (juniorhockey) have been brought in.
"That's been our M.O. since the (NHL) lockout ended,." Larsen said.
Larkin, who was born in England and raised in northern Italy near his mother's family, recently completed a four-year career at Colgate University. He had the second highest point total by a Colgate defenseman with 19 points as a freshman.
"He's a big, rangy kid," Larsen said. "He's quick to contact.
He played for Italy in the 2012 IHF World Championships and competed against some of the world's best players.
"I feel like I got some experience that has really helped me," Larkin said.
He came to the United States at 14 to play hockey in prep school.
Not shy about jumping into the offense, Larkin got things going during a two-goal first period. He collected a pass from defenseman Mike Banwell and drove a 30-foot shot past goalie Martin Jones at 12:59 of the first period.
"It was nice to get the goal, but honestly, it feels better to win," said Larkin, outside the Falcons locker room, which is closed to the media this season. "
Xavier Ouellet – «La LHJMQ, une école de vie»

QMJHL Roundup: Clapperton leads Armada to 6-1 playoff win over Titan
The Canadian Press
Christopher Clapperton scored twice as the Blainville-Boisbriand Armada downed the Acadie-Bathurst Titan 6-1 on Thursday in the first game of the Quebec Major Junior Hockey League playoffs.
Clapperton also had an assist as the third-seeded Armada took a 1-0 lead in their first-round series. Marc-Olivier Roy scored and added two assists for Blainville-Boisbriand, while Marcus Hinds, Danick Martel and Olivier Picard chipped in as well.
Seguin celebrates Bruins' GWG

Mar 22
Devils' Andrei Loktionov enjoys his own comeback from injury
Rich Chere
The Star-Ledger
RALEIGH, N.C. — Martin Brodeur wasn't the only Devils player to enjoy a successful comeback.
Andrei Loktionov, back in the lineup after missing two games and most of a third with a left shoulder injury, scored a power-play goal at 16:54 of the third period to give the Devils a 4-1 lead and assure the win Thursday night.
The Russian center's backhander from the slot deflected off the right post and into the net.
"It's nice to score a goal when you don't play for three games," he said.
Loktionov was hurt in the first period of the March 15 game in Philadelphia.
"I was a little bit sore in the first period," he said. "Then everything (the pain) goes away."
Goodrow scores GWG in Brampton's playoff opener
D'Agostini signs ECHL deal with Cincinnati
Scott Gomez on Marek vs. Wyshynski
Murphy scores twice, Leivo chips in three assists as the Rangers take 1-0 series lead
Mar 23
Agozzino signs with Colorado
Cheryl Bradley
MileHighHockey.com
22-year-old Andrew Agozzino signed a two-year, $1.18 million contract, giving him a $60,000 AHL salary and the Avs a $590,000 NHL cap hit. Agozzino signed a one-year deal with the Lake Erie Monsters for the 2012-2013 season, his first real professional foray after a five-year career in the OHL. He had a two-game tryout with the Peoria Rivermen (St. Louis Blues affiliate) in 2010, but returned to the OHL without a contract.
He has been a staple of LEM's offense, leading the team with 28 goals and 45 points in 65 games. Agozzino has been a huge bright spot on an inconsistent team that is struggling to make the playoffs. Agozzino went undrafted despite being over a point-per-game player in juniors. He holds franchise records with the Niagara IceDogs in goals (159), assists (147), points (306) and games (316).
St. Peter's Saints win OFSAA boys hockey AAA/AAAA championship
Mike Davies
Peterborough Examiner
For the first time in school history the St. Peter's Saints are OFSAA boys hockey champions.
The Saints completed a perfect 6-0 sweep through the OFSAA AAA/AAAA championship tournament in Mississauga and Brampton with a 4-2 win over St. Michael's College in the final after a 4-2 win over Holy Trinity in semifinal play Friday.
Gerard Sullivan has coached the Saints for 28 years, 19 as an assistant to Ed Leahy and nine as head coach with Jaden Gates and Steve Stanlick at his side. During that span the Saints have been to OFSAA 10 times with their best performance a fourth-place finish in 2011.
"It's a huge feeling of contentment, finally having reached the goal," Sullivan said.
"Two years ago, we were so close and even last year we were knocking on the door in the quarter-final losing to the eventual winner Michael Power, who we were leading going into the third."
Mitchell Stephens fired a hat trick for the Saints in the final and Will Gagne capped it with an empty-net marker. Brad Smith got the win in goal. Against Holy Trinity, Mac Maloney had an empty-net goal while Gagne scored twice and Nick Julian once.
Sullivan said the addition of Stephens, expected to be a first-round pick in the April 6 OHL draft, in the second semester was a major boost to the team.
"We had lost a significant player and we were able to fill that gap with Mitch, who was just a fantastic fit," Sullivan said.
He said the team also adapted to some line changes and bonded during a March Break trip to Germany.
"Everyone wanted to be a part of a winner. It was a great atmosphere around these kids," Sullivan said.
"We had a really good blend of veterans. We had nine returning players from last year, basically half the team had been here and through the experience and realized this is a marathon.
"We had four solid defencemen who had been here more than once. It all starts on the back-end. Our goaltender Brad Smith didn't skip a beat and we got great additional goaltending support from Jake Fenton."
There was a contingent of players from Douro and Ennismore who are playing in OMHA finals.
"They have a background of success," he said.
Despite not having a full Kawartha season this year, with public schools across Ontario not participating in extracurriculars in first semester, the Saints played a 38-game schedule including tournaments, exhibitions and their trip. They were 32-3-3.
"This means everything with this being (St. Peter's) 100th anniversary," said second-year player Mike Cain.
"We hadn't done better than fourth place in all the history of our school. Having our principal (Kathy Ross) pass away this year, it means the world to our team and our coaches and fans as well."
Cain said it wasn't easy with every game a stern test.
"We pulled through," he said. "I think we're a third period team and Mitchell Stephens came up big for us and got a hat trick. We just held onto it. It meant a lot to us."
Late heroics and solid goaltending save Stockton Thunder – Roy stops 37
Sergeev scores in playoff opener
Mar 24
Future Sabres: Justin Kea
Warren Kozireski
SaginawSpirit.com
In Pittsburgh at the 2012 National Hockey League entry draft the Buffalo Sabres focused their attention on center ice.
Their two first round draft selections—Mikhail Grigorenko and Zemgus Girgensons—have large frames and, while both were being weaned into the pro game largely on the wing.
But almost an afterthought, Buffalo chose another center with size in the third round—73rd overall. Justin Kea is playing with the Saginaw Spirit in the Ontario Hockey League and has put up 46 points over the first 63 games this season, but was selected with defense in mind.
The 6'4", 206 lb. participated in a mini-combine for the Sabres before the draft but, with just seven goals and 13 assists over his first 127 junior games, offense wasn't the first word that came to mind when scouts watched him play.
Increased playing time this season with Saginaw has changed that slightly, but the Woodville, Ontario native projects as a third or fourth line center who kills penalties and is on the ice protecting a one-goal lead in the final minute.
For comparison, picture Paul Gaustad with much better speed.
"Points-wise I'm having a good year and plus/minus is pretty good. I'm on the first PK and a little power play time, but I feel in the NHL I will be a defensive player and not a scorer so I'm more defensively focused.
"I would like to be like a Paul Gaustad. (Head) coach (Greg) Gilbert referred me to kind of be like him, so I watched some videos and I like the kind of hockey he plays—strong defensively, can score, good on draws— and I think that the kind of role I can play."
An assistant captain with the Spirit, Kea won a gold medal with Team Ontario at the 2011 U-17 World Hockey Challenge and was named the OHL West Division Academic Player of the Month this past December.
"Hopefully I can take what I do in the OHL to the NHL—being good defensively and show that I can also put up some numbers.
"I went to the development combine before the draft and they said 'you only have three goals this year— that's not very impressive. How do we know you'll be able to produce?'
So coming into the summer I really wanted to work on my goal-scoring ability and produce numbers this year. That was my overall focus but still being solid defensively. I really wanted to show everybody that I could put up some numbers."
In spite of being ranked 93rd overall among North American skaters heading into the draft, Kea chose not to attend the event in Pittsburgh.
"Even though my agent was pretty confident in me getting drafted, I only had 14 points so I just decided to stay at home and share that moment with my family. I didn't need all that big flashy stuff—I'm not that kind of guy."It's obvious Buffalo was going for a little size up the middle this draft and I'm happy they drafted me. I think I'll be competing with the other two guys for a spot one day. Being a hard-working player and being in good shape will help me get that position."
And likely on the ice against the other team's top line.
Thomas scores twice in Whale win
more
THE RIG 28 week ending Mar 17th
on March 17th, 2013 by Pulver Sports
Mar 11
Varone, Americans win after 10-round shootout with Heat
Mar 12
Seguin scores vs Pittsburgh

Mar 13
Bud Light Hog Talk – Adam Clendening

OKC Update: Olivier Roy

Crowded crease a healthy challenge for Roy
Ryan Dittrick
EdmontonOilers.com
SAN ANTONIO, Tex. – When the Edmonton Oilers acquired 24-year-old goaltending prospect Niko Hovinen off waivers from the Philadelphia Flyers earlier this season, Oklahoma City's crease got a whole lot more crowded.
2009 fifth-round pick Olivier Roy began the 2012-13 season as Yann Danis' backup after graduating from the starting role with the ECHL's Stockton Thunder a year prior. But after a so-so start in which the 21-year-old posted a goals-against average approaching 2.90 and a save percentage below the .900 mark, Roy was returned to the Thunder on Feb. 12.
The Amqui, QC product was outstanding in his recent stint in Stockton, posting a 3-1-0 record, 1.24 goals-against average and .962 save percentage. He was promoted back to the Barons two weeks later after Danis was recalled to Edmonton during the Oilers' monstrous nine-game road trip.
"It's been different. With the addition of Niko and Yann being called up a couple times, there have been a lot of challenges this season," said Roy. "You can't control those things, so I'm staying focused on playing one game at a time and when you get the opportunity to get the net, you have to try and make the most of it."
Roy did that this past Sunday in a win over the San Antonio Rampage, making 37 saves — many of the sensational variety — en route to a hotly contested 3-2 victory at the AT&T Center.
It was the goalie's first win since returning to the Barons on Feb. 27.
"We had a lot of penalties against, but we managed to keep the score in our favour," said Roy. "For myself, it was huge and it feels great. Every single game is really important for us right now, trying to make a statement that we're really a playoff team. There are no off nights for us.
"That's how we need to approach every single game."
The Barons and Rampage go at it once again Wednesday in San Antonio. According to Head Coach Todd Nelson, Roy will make his second straight start because, as the coach put it, "he deserves it."
"Olivier started the season with us and when we got Niko, he went down to Stockton and got some confidence there. It showed on Sunday night. Roy was put under a lot of pressure late in the game and he stood tall for us. It was great to see him play very well.
"Roy's been getting better and better and so is Niko, so we're very happy with their development."
"The group of guys (in Stockton) played great in front of me," added Roy. "I did exactly what I was trying to do. I was trying to take it one game at a time and it went pretty well. I was happy with my play over there and I'm trying to bring the same confidence I had in net over there to here with the Barons."
The goaltending situation could get a little muddy as soon as Wednesday once again, however. It appears as though Nikolai Khabibulin is good to go after missing the bulk of the road trip. As a result, announced by General Manager Steve Tambellini after the Oilers defeated the Colorado Avalanche Tuesday night in Denver, Danis has been reassigned to the Barons.
Danis recorded his first win as an Oiler on Mar. 10, stopping 21 shots in relief of Devan Dubnyk who was forced to leave the game after colliding with Marian Hossa and teammate Teemu Hartikainen.
At present, all three goaltenders will remain on the Barons' roster.
Naturally, Roy hopes he will stay in copper and blue long-term to continue to develop in the AHL and work alongside his veteran mentor.
"Absolutely, he's really helped me along the way," said Roy. "He's given me a lot of advice on how to approach a game, how to prepare, and even how to handle certain situations within the game.
"It's really been helpful for me."
Galchenyuk's shootout goal vs Ottawa (Larionov)

Andrei Loktionov's Goal vs Philadelphia

3.13 Postgame: Andrei Loktionov

Mar 14
Irwin scores vs Kings

Larkin signs ATO with Falcons
Springfield, Mass. – The Springfield Falcons, AHL affiliate of the NHL's Columbus Blue Jackets, announced on Thursday that they have signed defenseman Thomas Larkin to an amateur try-out agreement (ATO).
Larkin, selected in the fifth round (137th overall) of the 2009 NHL Entry Draft by the Blue Jackets, recently completed his four-year career at Colgate University (NCAA, D-I). The 22-year-old served as a co-captain of the Raiders during his senior season of 2012-2013 and collected 58 points (15g-43a) in 147-career collegiate contests. Larkin was named to the ECAC Third All-Star Team during his junior campaign of 2011-2012.
Born in London, England and a resident of Cocquio Trevisago, Italy, Larkin helped Italy win Group A of the 2011 IIHF World Championship (Division I). He also participated with Italy at the 2012 IIHF World Championship.
The Falcons end their four-game road stretch in Providence on Friday before returning to the MassMutual Center on Saturday at 7:00 p.m. to host the Bruins. Springfield closes out the weekend in Connecticut on Sunday against the Whale. The Falcons lead the Whale by 12 points for first place in the Northeast Division with three games in hand.
Goodrow ties for third best defensive forward in Eastern Conference Coaches Poll
Goldobin scores twice in Sting loss (Larionov)
Mar 15
Goodrow scores game winner, Brampton clinches home ice
Mar 16
NHL: Canucks sign U.S. college free agent Kellan Lain
Elliott Pap
Vancouver Sun
VANCOUVER – The Canucks found a gem through U.S. college free agency in defenceman Chris Tanev and they hope they have found another in 6-6, 220-pound centre Kellan Lain after signing him Saturday to a one-year contract.
Lain, 23, is a native of Oakville, Ont., and has played the last three seasons with the Lake Superior State Lakers of the Central Collegiate Hockey Association. Lain had eight goals, eight assists and 111 penalty minutes during the 2012-13 campaign. The Canucks intend to assign him to the American League's Chicago Wolves.
"He has a good blend of both speed and skill," said Canuck assistant general manager Laurence Gilman. "We're going to bring him to Vancouver, as we usually do with new players, to get him acclimated to our organization and he will then join Chicago sometime in the midweek."
Lain received a $92,500 signing bonus on his one-year contract, which was the longest he could sign for based on his age. He will receive a $70,000 salary (pro-rated) in the American League and $832,500 (pro-rated) if he is called up to the Canucks.
According to Gilman, Lain had been heavily scouted by Canuck senior advisor Stan Smyl, whose duties include watching U.S. colleges.
"He's been on Stan's radar for quite some time and we have followed him very, very closely," Gilman said. "We were in competition for him with a number of other NHL teams."
Lain shoots left and led the Lakers in faceoff wins with 313. The Canucks are in dire need of a left-handed centreman adept on the draw after shutting down Manny Malhotra (vision) earlier this year.
Reached at his parents home Saturday, Lain was understandably excited to sign his first professional contract. He said 10 teams were originally in the hunt for his services before it came down to a final four.
"It was a tough choice," he said. "Picking an NHL team is never easy when more than one wants you. Growing up in Canada, it's the same story — we all want to play in the NHL. Now that it's a possibility, it's really exciting, especially coming to an organization like Vancouver. It's a special city and they have a great team."
Asked for a scouting report on himself, Lain said: "I'm pretty much described as a big centreman who can skate, is good in his own end, is good on faceoffs, can kill penalties and chip in once in a while offensively. So that's pretty much how I'm described and I agree. I also like to play feisty. I've played feisty my whole life."
Plans call for Lain to fly to Vancouver on Sunday and watch the Canucks play Monday against Minnesota and Tuesday against St. Louis before he heads off to the Wolves. By the way, Lain played against Tanev "a little bit" in the greater Toronto minor hockey system. He is four months older than Tanev but added that he doesn't know the Canuck defenceman personally.
Canucks sign Kellan Lain, and may not be done
Jason Botchford
The Province
When it comes to the Canucks, Kellan Lain has two things going for him.
He has size. He's a centre. And the Canucks need both.
It helps explain why the Canucks have been coveting Lain, 23, for two seasons, even though he scored just 21 goals in the 108 games he played for Lake Superior State.
But the Canucks aren't selling Lain as the next Joe Nieuwendyk.
"We see him as a bottom end centre, more like Paul Gaustad or maybe a David Steckel type player. That kind of guy," Vancouver assistant GM Laurence Gilman said. "He can be a shutdown centre.
"He's a 6-foot-6, 220-pound centre with decent puck skills who plays with edge and is a very good skater. Those type of players don't just grow on trees. We were very fortunate to get him, he was highly sought after."
There were four teams in on Lain before he made the decision to sign with the Canucks as a college free agent. You can be sure the Canucks current lack of depth at centre, and the fact they have no one like him in the organization were the main reasons he chose the Canucks.
Lain will first come to Vancouver and get his tour of Rogers Arena. Maybe take a spell in the mind room, too. He'll be with the Canucks early in the week for his indoctrination and then report to Chicago after the Canucks-Blues game on Tuesday.
It's expected he'll be in the Wolves lineup quickly.
Irwin scores vs Kings again

Leivo scores twice, adds an assist in Kitchener win
Thiessen stops 35, WBS beats Sharks
Mar 17
Seguin scores vs Pittsburgh again

Goldobin scores 30th, wins rookie scoring title (Larionov)
Introducing Kellan Lain
Tyson Giuriato
Canucks.NHL.com
He is big and mean and skilled – oh and did we mention big? He is Kellan Lain, the newest member of the Vancouver Canucks family.
At 6-foot-6 and 222-pounds, Lain is an intimidating presence on the ice and instantly becomes the largest Canucks prospect in height and weight after a signing a three-year entry level contract with the team on Saturday. Lain will report to the Canucks American Hockey League affiliate, the Chicago Wolves, in the next few days.
"Kellan is a big, strong center with pretty decent skills that skates good," said Jim Roque, who coached Lain for the last three seasons at Lake Superior State University in the NCAA.
"Obviously his role on my team will be different than what is asked of him at the pro level; on my team he was asked to score a little more and be an offensive guy, I think he has those traits, but I think he is more of a third line checking center, faceoff guy.
"He is competitive, competes hard and has an edge to him"
Canucks director of player development Dave Gagner agrees.
"Kellan is a big, strong, detailed player; wins face-offs, finishes checks, plays with an edge, is hard on his opponents and skates well too."
Lain, a native of Oakville, Ontario, spent the last three seasons with the LSSU Lakers, where he accumulated 39 points (21-18-39) and 210 penalty-minutes in 108 games, including 111 penalty minutes in 32 games this past season.
"He hits hard, he is physical, that's his game," added Rogue. "He has to play with an edge, play physical and stick his nose in there to be effective."
At 220 pounds one would think size wouldn't be an issue, however Roque said adding some weight to his already large frame is a must in order to for him to keep a physical presence at the pro level.
"His body needs to fill out, he needs to get thicker," said Roque. "He is still a thin kid for a big kid. His body needs to fill out and get bigger if he is to play at 80 games plus playoffs at the pro level."
In the NCAA, 111 penalty minutes in 32 games is a staggering amount, but Roque says Lain's size and punishing hits led to referees handing him his share of penalty minutes strictly due to his large stature.
"When you get a five in our league you also get a 10 with it to and he had a couple check from behinds and a couple hit to the heads. To be honest, our league kind of ran him out of college hockey as every time he hit a guy it was a penalty because he is so big."
As far as off-the-ice, in just speaking to the 23-year-old Lain you can instantly tell he is a laidback, smart guy who comes from a strong family.
"He is a good kid, that comes from a nice family, his parents are educators," said Roque. "Real good team guy, easy to get along with and likes to have fun."
And now ladies and gentleman, we present 10 things you may or may not know about the newest Canucks prospect Kellan Lain:
– His dad, a teacher, taught Manny Malhotra through high school. "I got the chance to meet him a few times when he was playing in Guelph and he is someone I looked up to growing up," said Lain.
– He is good friends with Sam Gagner, so he got to know Sam's dad, Dave Gagner pretty well and is friends with fellow Canucks prospect Jeremy Price. "The familiarity with everyone played a big part into my decision to come to Vancouver."
– The last time he was in Vancouver he was five-years-old.
– His job this past summer was promoting Bud Light.
– He missed almost a year of hockey when a skate blade from an opposition goaltender cut his wrist in a playoff game, which required surgery. Instead of starting his freshman season in the NCAA the next season he spent the year recovering from the injury and joined his OJHL team at the end of the year. "That was really scary, I wasn't sure if I would ever be able to play hockey again."
– He took college classes while playing junior in Oakville, which he was able to transfer to Lake Superior State and will graduate with a degree in marketing this spring after only three years at the school. "I didn't want to leave school without my degree so it's really nice to sign an NHL contract and obtain my degree at the same time."
– He feels the one thing he needs to work on is his strength. "I need to get stronger and bigger, not in height but in weight."
– He feels he plays a similar role to current NHL players Paul Gaustad and David Steckel.
– Off the ice he describes himself as big family man that is laidback and likes to play golf in the summer and also enjoys hitting the gym.
– His thoughts on dealing with all the media requests on the day he signed: "This is crazy, I have never been around anything like this before, and it's a lot bigger than I thought it would be, but it's really fun!"
Welcome to the hockey market that is Vancouver, Kellan.
more